Roof Thirty Nine at Fenwick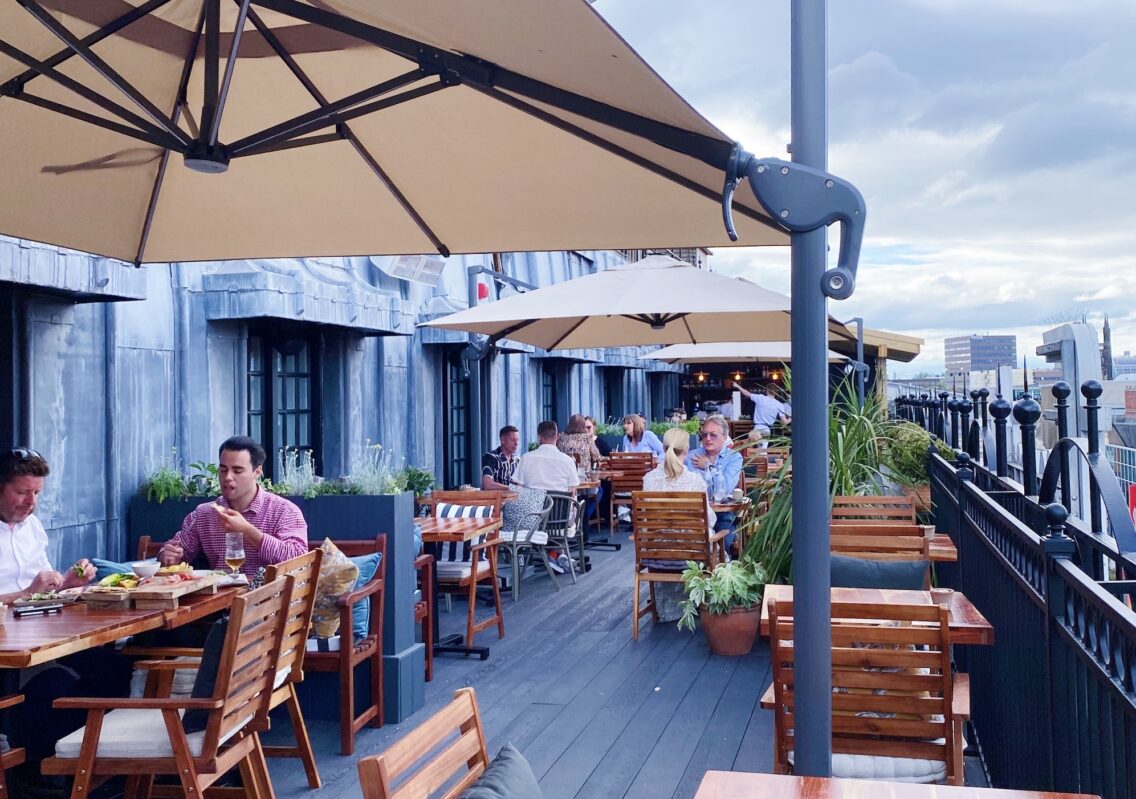 Al fresco cocktails and dining reach new heights at Fenwick's all-new outdoors terrace, Roof Thirty Nine.
Fenwick Newcastle has unveiled a stylish new rooftop bar and restaurant – one of only a handful of venues across the city that boasts sky-high views.
The Food Hall on Fenwick's ground floor has already established itself as a top destination with foodies and shoppers, thanks to Fuego, Saltwater, Porterhouse, Cafe 21, and Mason + Rye serving up some of our region's finest local produce. So it would be fair to say that this new addition up on the roof comes with its own expectations.
A stylish outdoor terrace
Entry is via the department store's Food Hall, situated next to the florists. Here, you'll be greeted by a member of staff who'll let you know if they have availability. If they do, you'll then head up to level four in the elevator, where you'll be welcomed by another member of their team and swiftly escorted to your table. All very seamless!
The roof terrace is long and narrow, featuring a mix of comfy low seating, wooden tables, plush cushions, and plenty of greenery. 
It's a chic urban hideaway in the heart of the city. 
As you might expect, the space has the potential to be a real sun trap (I say potential, as on my visit, it was rather cloudy!) so there are parasols on standby for some much-needed shade.
Overall, the vibe is chilled; it's the kinda place you'd wile away the hours after trawling the shops in Eldon Square.
Rooftop views of Newcastle
So then, what about those acclaimed rooftop views? 
The venue overlooks Northumberland Street and you can hear echoes of the various buskers performing on the street-level below, along with the general hustle and bustle of the city's shoppers.  
The terrace also looks out over the east of Newcastle, towards the Civic Centre and its iconic copper green tower adorned with seahorses.
It's not the prettiest of skylines compared to, for example, the Quayside and all its bridges, but it's still a striking urban view nonetheless and one you've probably not had the chance to admire before.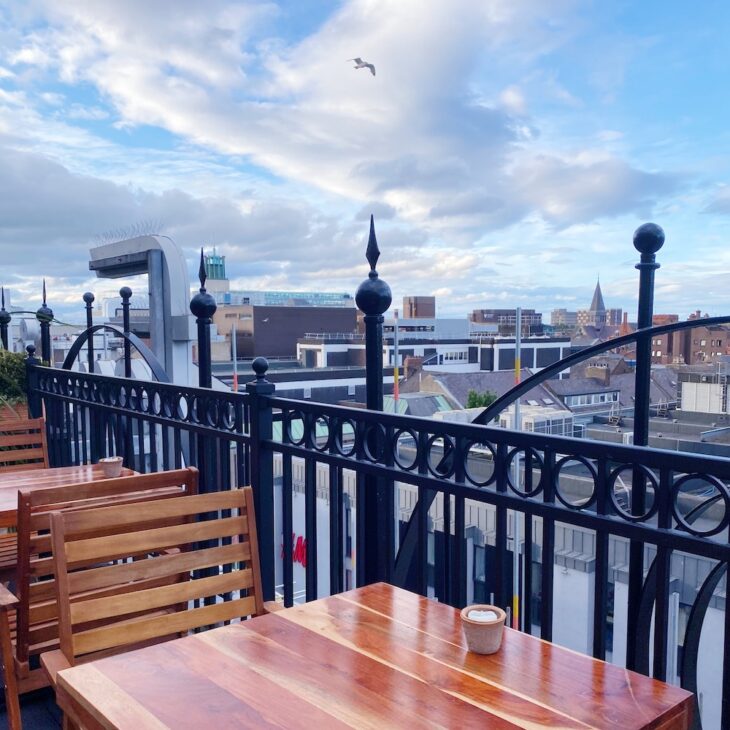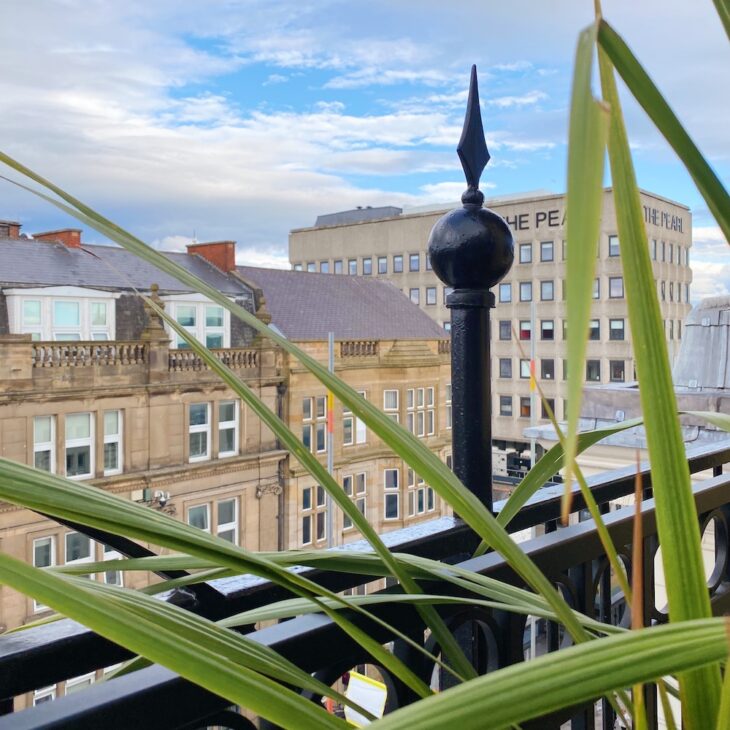 The bespoke cocktail list features a range of botanical infusions using spirits from Northumberland-based Hepple Gin, and I enjoyed a fruity blend made with Earl Grey tea. They're on the pricey side though, at around £12 a pop, so choose yours wisely! Wines, teas and coffees are also available.
If you're after a bite to eat, the all-day food menu serves up a selection of small plates and snacks, including soy and sesame barbecue chicken skewer, fresh crab on toast, and grilled asparagus with herb emulsion. 
From the charcoal oven, you can choose from the likes of grilled mackerel with marinated tomato salad, rose harissa lamb with roasted aubergines and yoghurt, and cauliflower steak with lemon butter and grated tomatoes. All very light and summery.
Got a sweet tooth? Chocolate tart with honeycomb, and gin and tonic ice lolly are just two of the scrumptious-sounding desserts available (and I was more than tempted to try one, but my cocktails were so potent, I decided to give it a miss in the end!).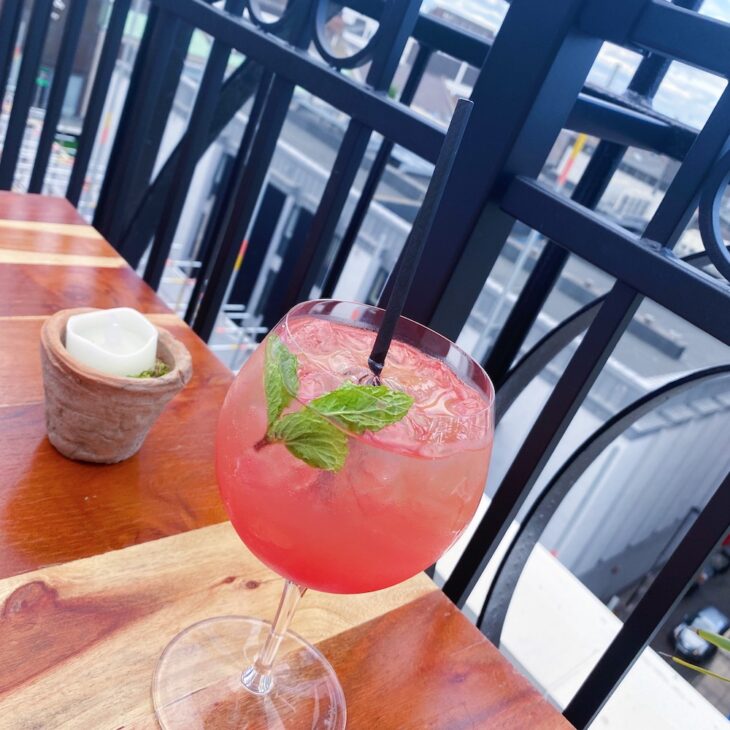 Roof Thirty Nine – named after Fenwick's address at 39 Northumberland Street – is a lovely new addition to our city's drinking and dining scene, offering a backdrop that's chic and laid-back in equal measure.
The sprawling city views aren't the most memorable, but there's a definite novelty factor to being atop this renowned department store.
I'm curious to see how the terrace will be adapted in the winter months to ensure it's a cosy spot that beats the sky-high chill factor!
The venue is open Wednesday to Sunday and special one-off events are also planned in the coming months, so look out for more details.