Your essential guide to pumpkin picking at Brocksbushes Farm in Northumberland this spooky season.
Brocksbushes Farm is 40 years old and combines a working farm with a shop, tea room and pick your own events throughout the year, from strawberries and blackcurrants in the summer months to plums and pumpkins in the autumn.
The farm, located close to Corbridge along the A69/68, is hugely popular in the North East, with many of its events regularly selling out – and pumpkin picking is no exception!
How to book and what it costs
You need to pre-book your visit directly on the farm's website, with dates available up until 31st October.
You can arrive at any time within your allocated hour slot and stay as long as you like once you gain entry to the pumpkin patch. We got there just after 11am on a Saturday and it didn't feel crowded, as everyone was dispersed across the farm's sprawling fields.
Entry costs £2 per person, with children under 3 going free. The farm's on-site parking is also free.
On the day, you just need to pay for every pumpkin you pick, with prices based on their size; small £2, medium £4, large £6.50 and monster £8. Carving kits are also available to buy.
Picking your own pumpkins - how it works
Upon arrival, you'll be directed to a grassy area to park your car and can then collect a wheelbarrow – essential equipment for carrying all your pumpkins (or little ones!) around.
You'll then present your ticket at the main entrance and make your way up to the pumpkin patch.
The field was larger than I was expecting and on a slight upward slope, and I would definitely recommend wearing wellies as it's rather muddy. You can venture to any part of the pumpkin patch you like and then trundle down the different rows with your wheelbarrow in tow to handpick your favourite pumpkins.
There are more than 90,000 pumpkins this year and 20 varieties to choose from, including Flatso (flat with ridges), Hoargarth (warty), One Too Many (animal print style), Crown Prince (blue/grey), Mellow Yellow, Polar Bear (white) and Big Doris (the classic orange).
Once you're happy with your stash, head into the marquee to pay for your pumpkins and clean them up. You can also stay and carve them on-site, or pile them into your car ready for your hearty autumnal recipes, cosy interior arrangements or spine-chilling Halloween displays.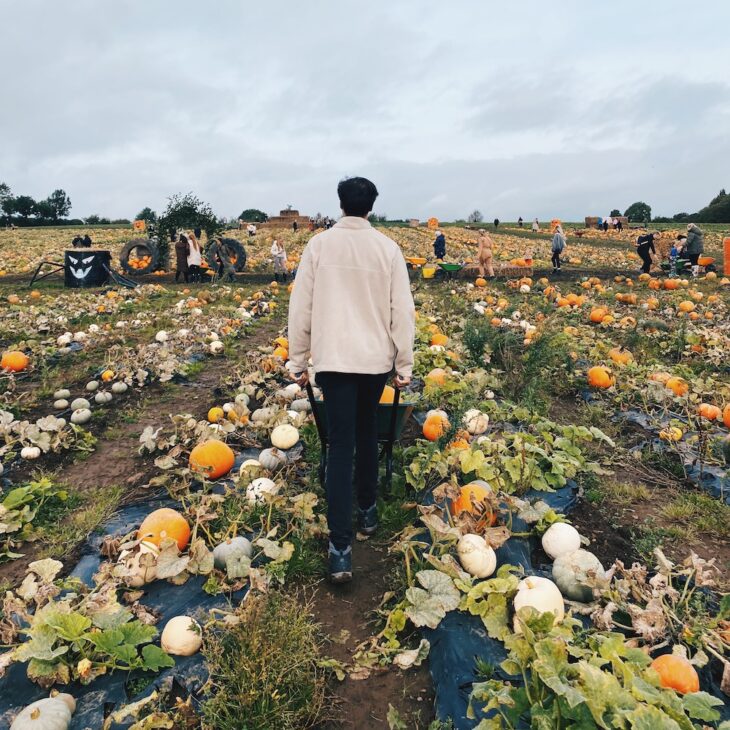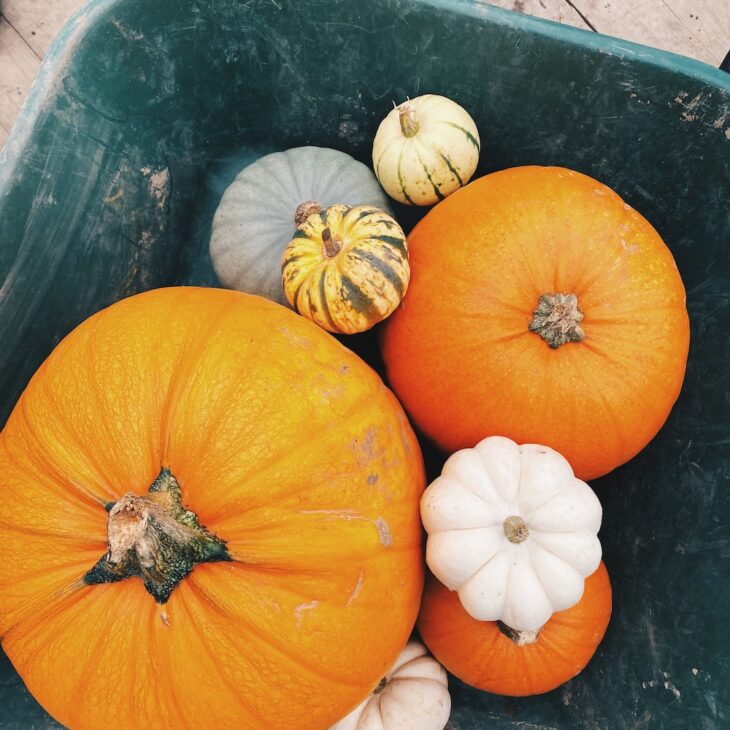 What to see and do at the pumpkin patch
It's not just about picking pumpkins! Families can also enjoy fair rides and face painting, as well as interactive games and displays dotted around the site.
And, of course, you'll find Instagram-worthy backdrops for posing with your pumpkin haul! Think hay bales stacked high, giant tractor tyres, and a leafy archway to frame your shots.
The farm's shop and tea room are also lovely if you fancy a hot drink or bite to eat before or after your visit to the neighbouring pumpkin patch.
I thoroughly enjoyed my visit and left with a selection of good quality, colourful pumpkins for my home. 
I should add, although this is a seasonal favourite for families with young children, it's also a fun way to spend an hour or two with your partner or friends!