Pride and Prejudice* (*sort of) turns the page on a new all-female adaptation of Jane Austen's romantic classic, combining comedy and karaoke at Northern Stage.
Isobel McArthur's new adaptation of Jane Austen's masterpiece Pride and Prejudice, currently on show at Northern Stage, is joyful, smart and nothing short of a real hoot from start to finish!
Pride and Prejudice* (*sort of) brings this literary classic into 2019 with plenty of current political references, curiously modern interpretations, gags aplenty and a smattering of karaoke songs throughout, with the likes of You're So Vain and Lady in Red perfect accompaniments to the storytelling.
How does the stage show compare to the book?
Ardent Austen fans will be pleased to hear that the performance stays true to the book's original plot, with all the key romantic encounters and balls re-imagined with a contemporary twist and relatable (expletive-filled) dialogue.
The show marks a stark – but wholly welcomed – departure from the strait-laced TV and film adaptations we have all come to adore over the years. And, yes, that does mean there's no Pemberley lake scene to pore over!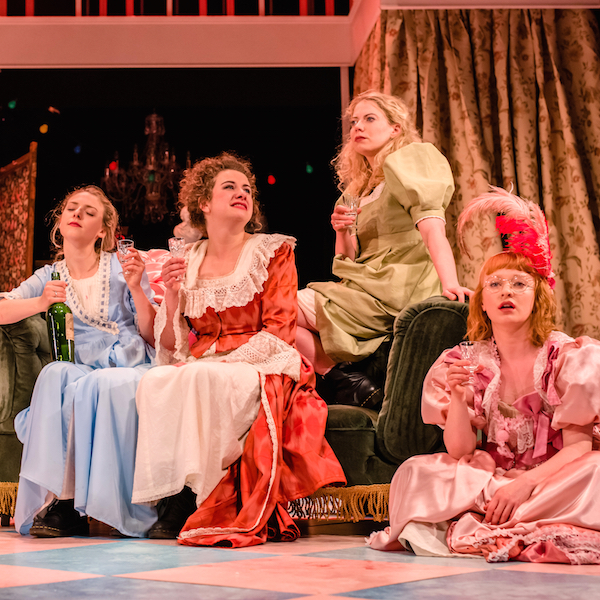 Tron Theatre Company and Blood of the Young's female cast play all the characters, from the 'invisible' servants and gaggle of Bennet sisters to the Bingley siblings and, of course, the aloof, brooding protagonist himself, Mr Darcy.
This is carried off seamlessly on stage, with the maids' plain white uniforms transformed into colourful Regency splendour thanks to the quick buttoning of overdresses and blazers, and addition of hats, spectacles and feather headpieces.
This transition between roles is never distracting though as the cast stealthily shift into the background of the stage set, re-positioning props and even doubling up into a chorus with a harp, guitar, piano, accordion and violin apiece.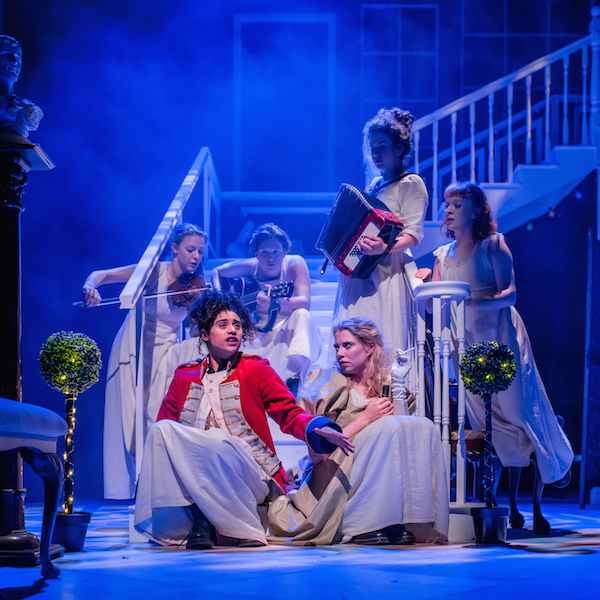 The talent is immense; each of the six cast members shine in their multiple roles.
And that's before we even mention their singing, with a portable karaoke machine intermittently perched on the stage amidst red party cups, a Rubik's cube and even petals, ready for the next impassioned track to fill the theatre and stamp 21st century pop culture all over Austen's masterly prose.
Is Pride and Prejudice* (*sort of) a crowd pleaser?
Laughter spilled from the audience throughout, with the show's irreverent take on this romance throwing up plenty of gleeful moments, cracking jokes and perfectly timed choreography.
You'll see some of Austen's most poignant scenes (and relationships) in a whole new light and will undoubtedly find many of the encounters far more relatable to the foibles of modern dating than you could possibly imagine.
It's always a daring move to take a much-loved classic and reinvent it but McArthur, alongside director Paul Brotherston, have done Pride and Prejudice justice.
Infinitely prefer a book? Perhaps. But, it's most certainly worth acquainting yourself with this raucous stage adaptation too. It's a witty, hilarious masterpiece and a pure delight.
Pride and Prejudice* (*sort of) runs until 12 October 2019 at Northern Stage in Newcastle. For tickets, visit www.northernstage.co.uk.
Images: Mihaela Bodlovic