Newcastle Sparkles enjoys an overnight stay at Le Petit Chateau – a boutique hotel and gastro-pub in the heart of Northumberland.
Located in the quaint village of Otterburn on the banks of the River Rede – and a stone's throw from Northumberland National Park – Le Petit Chateau is the latest incarnation from the leisure company behind Newton Hall and one of my favourite Saturday night destinations in Jesmond – As You Like It.
Similar to its sister venues, Le Petit Chateau offers something a little bit quirky and different (palm trees, firepits and the sound of crickets, anyone?) and it's already proving popular among brides and grooms-to-be.
The good news is that you don't need to be planning a wedding to enjoy an overnight stay at the venue. Along with the chateau's 25 boutique rooms (for bridal parties and guests) the venue also boasts eight individually styled 'William de Percy' rooms, situated above the venue's adjoining coaching inn, which are open to the public.
A plush setting at Le Petit Chateau
We visited one Friday in early November. Our room was a dusky space, with a low ceiling and a moody teal and amber palette. It was decked out with shabby chic French style furniture – think a wooden Toulouse style closet, glass chandelier, dainty dressing table complete with large oval mirror and fringed lampshades adorning the walls. The bed frame was something of a standout feature, consisting of chunky tree trunks.
The subdued lighting cast shadows in every nook and cranny of the room, accentuating the uneven finish to the walls, which somehow added to the charm of its old chateau feel.
As for the en-suite bathroom, this included a spacious walk-in shower and one of the most striking ornate mirrors I've ever seen, together with an antique style radiator, which I should add, kept our bedroom toasty during the night.
On the menu at William de Percy Coaching Inn
After unpacking and enjoying a few tipples in our room, we made our way down to the William de Percy Coaching Inn & Creperie for our evening meal.
The inn is such a cosy yet stylish space, with leather seating, bar stools and even a few booths, perfect for drinkers and diners alike. 
It's the perfect hideaway on a cold winter's night; the kind of place you pleasantly stumble upon by accident.
The menu isn't your standard pub fayre and what's great to see is that some of the key ingredients are sourced locally. A few highlights on the menu include Ingram Valley lamb with goat's curd creamed potato; baked pithivier of spiced puy lentils with polenta permientier; seared fillet of stone bass with dauphinois, samphire and kale; and pork loin steak with Halls of Corbridge black pudding.
I plumped for a succulent serving of Northumbrian rib-eye steak – cooked perfectly but with a tad more fat than I would prefer – served with crispy shallots, juicy Provencale tomato and (so moreish) hand cut chips. I also added a jug of thick homemade peppercorn sauce which married all the ingredients together nicely.
My friend opted for a sizeable slab of crispy pork belly accompanied by a delicious spiced apple, apricot and yuzu compote, pak choi and punchy hoi sin gravy. Not only did this plate look extremely appetising; it tasted sublime too.
I couldn't resist my sweet tooth (surprise surprise) and indulged in a dreamy portion of sticky toffee pudding. The sponge was light and fluffy, and best of all, it was soaked in a generous serving of rich butterscotch sauce and a dollop of smooth vanilla bean ice cream. A definite highlight for me.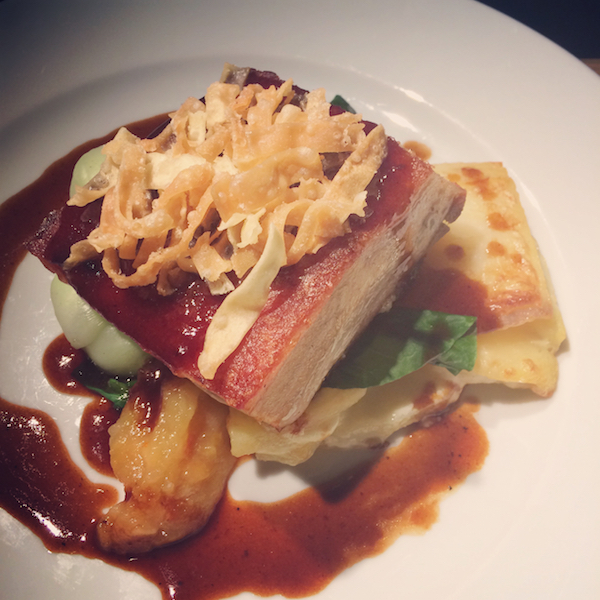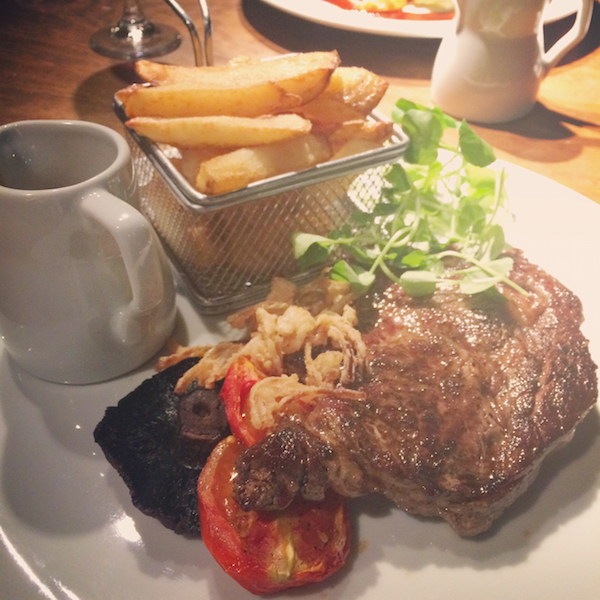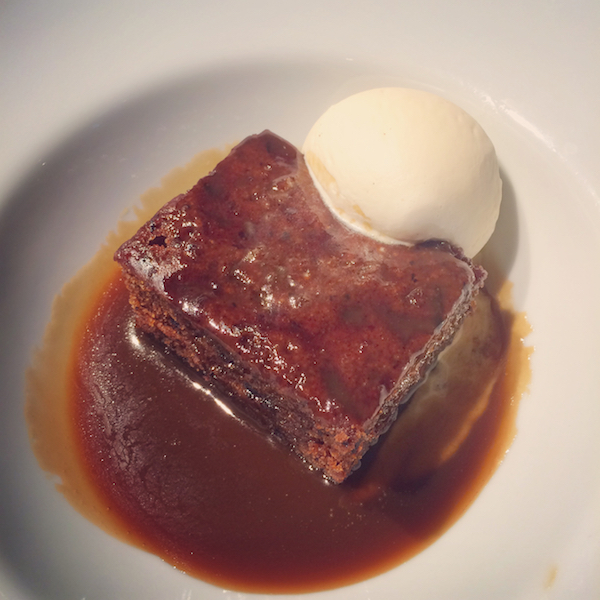 A few rums later and we retreated to our room for some fizz and a rom-com courtesy of Netflix. This is complimentary, which is great, as we all know how hit or miss regular TV channels can be.
The bed – kitted out with Egyptian cotton sheets – was really comfy. But as I mentioned earlier, the room was rather warm and we had to sleep with the windows open.
Breakfast at Le Petit Chateau
Breakfast is served from the coaching inn. There's a continental spread comprising juices, cereal, pastries and fruit, although I found the selection a little underwhelming compared to other hotels I have previously stayed in.
The cooked breakfast menu, however, was much more appealing. Despite swaying towards the Farne Islands brekkie (essentially, the full English) I settled on a large portion of salmon and scrambled egg on toast. My friend, meanwhile, was feeling ravenous and decided on the aptly named Le Petit Chateau Stack – two poached eggs on an English muffin, topped with hollandaise sauce, bacon, grilled mushroom and black pudding. All very filling and satisfying as breakfasts go.
The venue was in the throes of setting up for a wedding as we were about to check out, so we very briefly walked around its lounge area and peeked inside its majestic Belle Epoque ceremony space and elegant ballroom, before peering outside at the beautiful gardens.
It was raining very heavily so unfortunately we didn't make it outside for a proper wander, but I imagine that this would provide a lovely, romantic backdrop in sunnier climes.
The name – Le Petit Chateau – implies something grandiose and magnificent but on a much more modest scale, and in its own way, the venue does nod towards these qualities.
The hotel makes for an alternative break in the Northumberland countryside and is within easy reach of Kielder and even the Scottish border, so you can really make a weekend of it, if you're so inclined.
In a word: captivating. And certainly worth a jaunt out of the city.