Newcastle Sparkles enjoys an oh so loverly performance of My Fair Lady at Newcastle's Tyne Theatre and Opera House.
Lerner and Loewe's award-winning My Fair Lady – the story of a Cockney flower girl transformed into an elegant lady – takes to the stage this week at Tyne Theatre & Opera House thanks to the talented bunch at WEOS Musical Productions (formerly the West End Operatic Society).
It's a story immortalised on the silver screen by none other than Audrey Hepburn and it's regarded as one of the greatest musicals of all time – so how does this latest Newcastle production fare?
When phonetics professor Henry Higgins encounters grubby flower girl Eliza Doolittle at Covent Garden flower market, he rather pompously professes to his new acquaintance Colonel Pickering that he can transform the young working class woman into a member of high society in just six months.
Keen to improve her job prospects, Eliza later takes him up on the offer. Cue lots of rigorous speech classes, vowel pronunciations beaming from a gramophone and, of course, the ever so classic line 'the rain in Spain falls mainly in the plain'.
The cast from WEOS Musical Productions
Lucy Sutton takes on the lead role of Eliza Doolittle. Her performance on the opening night was flawless – perfectly capturing the fiery, assertive Doolittle as she evolves from a 'squashed cabbage leaf' into a polished and eloquent young woman who can enchant members of high society with her dazzling facade. Lucy's rousing vocals were outstanding too – I Could Have Danced All Night was a particular highlight.
Jonathan Cash, meanwhile, steps into the role of Professor Henry Higgins and everything about his performance on the night was on point. Wholly captivating, he's a character you love to hate; unsympathetic, flippant, judgemental and egotistical. And yet, you want him to succeed in transforming Eliza, even though he's ultimately not deserving of her affection.
Bringing some punchy comedic flair to the show is Joan Elton who plays Henry's mother – her performance was far too brief!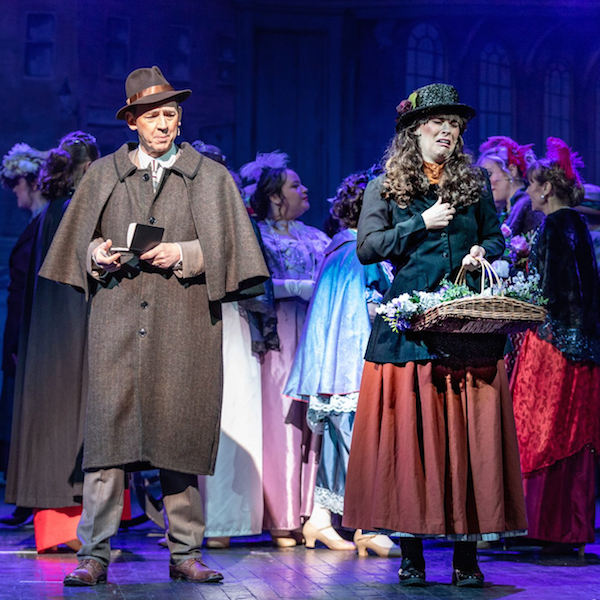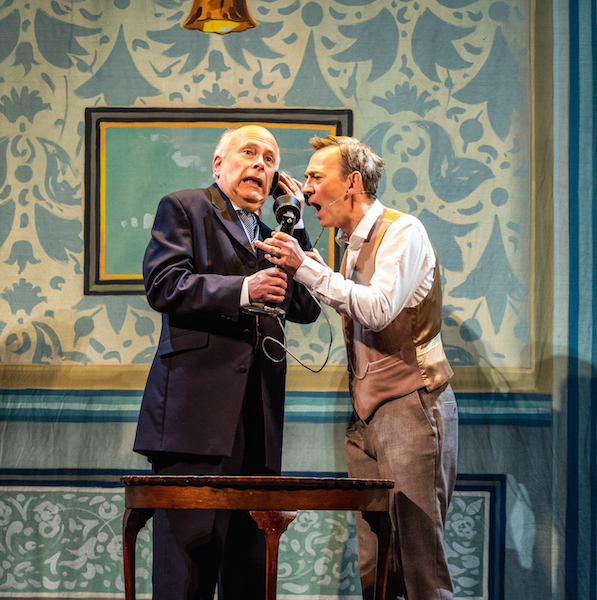 The story takes place in London during the Edwardian period and both the regal splendour and working class poverty of this era are captured simply yet effectively on stage through painterly backdrops and vintage-inspired props.
Higgins' plush study, Ascot and the decadent embassy ball sit in stark contrast with the gritty street scenes, where men in their flat caps huddle together to keep warm.
There's a surprising number of costume changes throughout the show, but it's Eliza's wardrobe that commands the most attention, as her attire symbolically tells the story of her journey from flower vendor to duchess-in-the-making. She swaps her shabby apron, coat and hat for a beautifully elegant white dress and sparkling hair crown, signifying that – along with her newly acquired refined accent and graceful manners – she has well and truly become an independent 'lady'.
My Fair Lady is brimming with classic songs, from Wouldn't It Be Loverly and On the Street Where You Live to the riotous With a Little Bit of Luck and Get Me to the Church on Time.
Combining exuberant dance numbers with expressive solo performances – the cast did a sterling job throughout, keeping the audience entertained through every twist and turn of Eliza's journey.
Once again, the team from WEOS Musical Productions more than deliver with this smashing performance. 
It's captivating, endearing and a real joy to watch, and whether you're familiar with the story or not, it's certain to smack a smile on your face.