Crazy golfing at Junkyard Golf Club Newcastle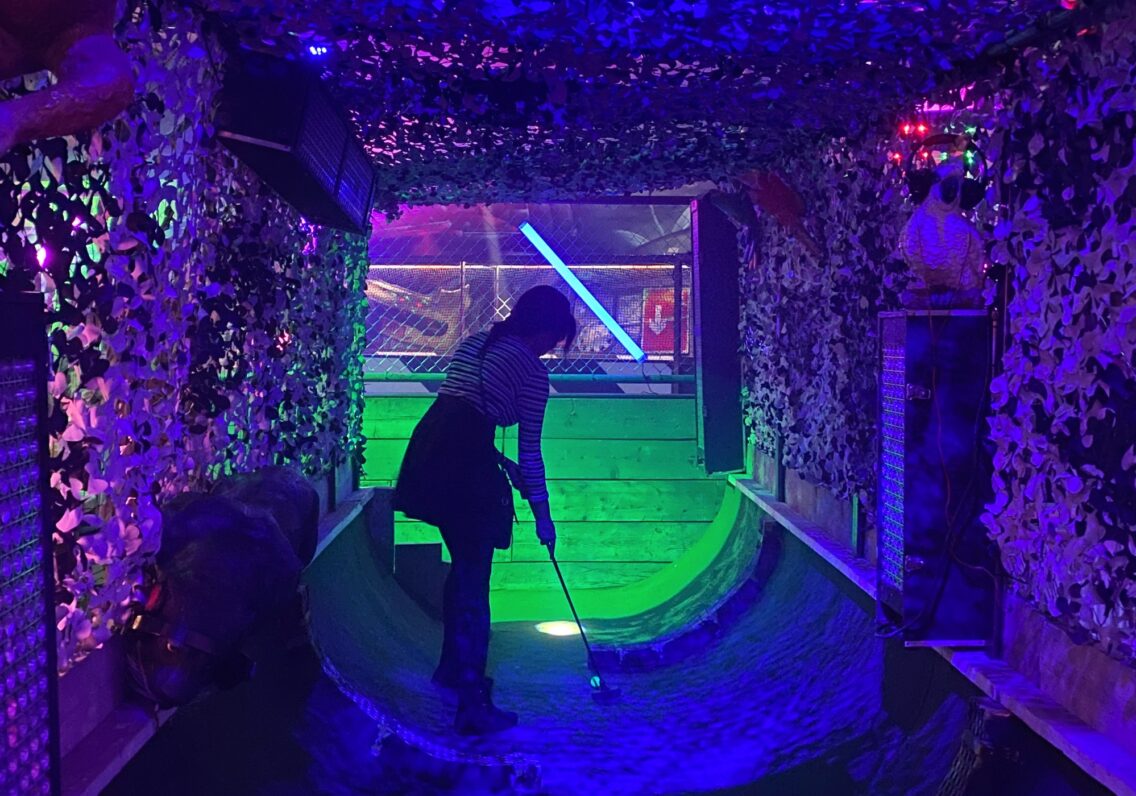 Swing into action with a spot of crazy golfing at Junkyard Golf Club in the heart of Newcastle city centre.
Crazy golfing for grown ups; that's the best way to sum up Junkyard Golf Club. 
In a haze of shimmering disco balls, pulsing neon lights, and sugar-laden cocktails, this is a fully immersive experience that teases plenty of fun against an 'out out' backdrop.
About Junkyard's three golf courses
In the Newcastle venue, you can take your pick from three quirky-themed 9-hole golf courses.
Step into the freakish flamboyance of Bozo – a fantastical fairground and circus, or meander through heaps of scrap metal and cars as you tussle with your mates through Gary's 'disco in a garage'.
For a totally tropical experience, Pablo presents all the mayhem of an exotic jungle – think towering Aztec temples, grizzly bears and erupting volcanoes. 
It's a clever ploy to create three wildly different courses, as it gives you an excuse to go back and try your hand at another game and, of course, take advantage of all the photo opportunities! Speaking of which, there's a Barbie-pink golf buggy in the entrance that has Instagram written all over it…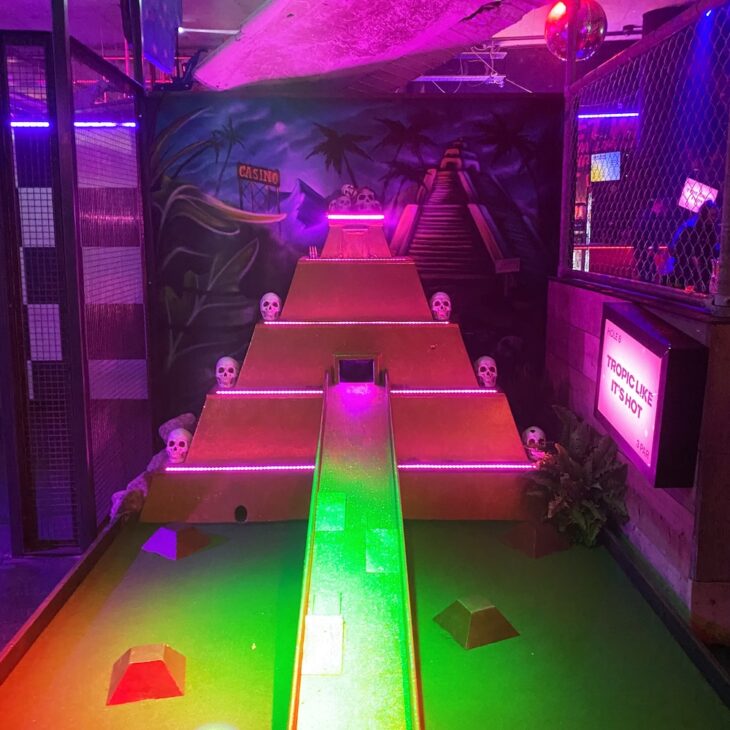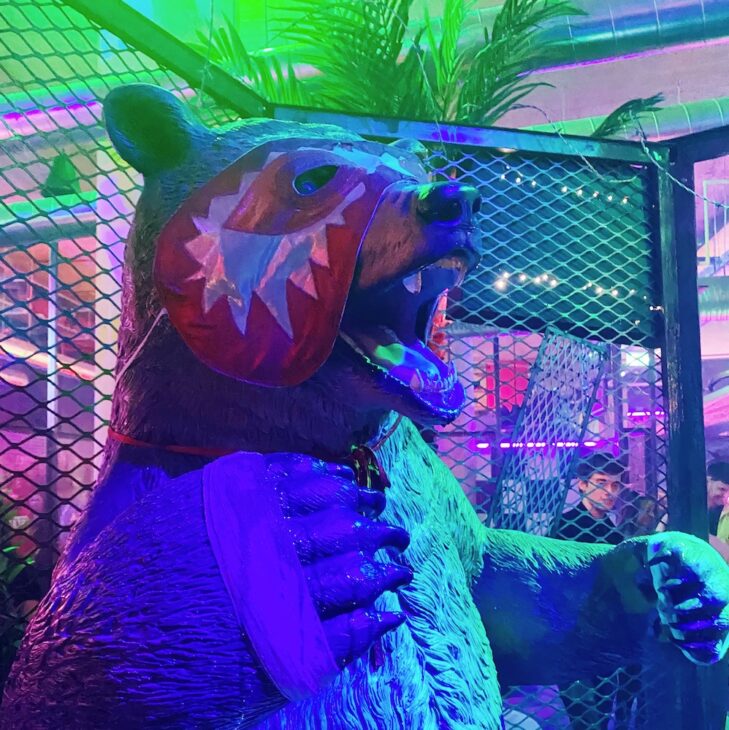 After you've sorted out your ticket and dropped off your jacket into the cloakroom, you can head straight to the bar.
There are plenty of spirits, beers and cocktails on the menu, but I went for the fruity Disco Frisko, garnished with Haribo sweets. On our visit, the bar service was really slow so I'd definitely factor that in to ensure you make your game's allotted time slot.
Drink in hand, you can then collect your putter, golf balls and scoring sheet before being ushered towards your first putting challenge.
It's worth noting there's another bar accessible from inside all three crazy golf courses, so you don't have to head back to the start to grab another drink.
Crazy golfing - timings and prices
I completed the Pablo course with three of my friends in about 90 minutes, but the group in front of us were incredibly slow, so I think it could be do-able in about an hour.
It's always hard to describe the difficulty level of courses like this, as more often than not I think it's down to sheer luck! 
There's an interesting mix of layouts, gradients, and props to tackle that will keep your problem-solving skills and putting style firmly in check! I won't spoil it for you, but the one with the 8ft bear was probably the trickiest on the Pablo course.
In terms of cost, games are slightly cheaper during off-peak periods (between Sunday and Thursday) at £8.50 per person compared to £10 on Fridays and Saturdays – check their website for current pricing info though.
Is Junkyard Golf Club worth a shot?
Junkyard Golf Club is good unabashed fun drenched in lively club-esque vibes.
As I previously mentioned, the venue feels more like a bar, with a DJ playing loud chart music, UV lights beaming from all corners and – harking back to my school disco days – smoke machines amplifying the lighting effects. 
On its own, it's something a little bit different to do with mates or colleagues, but with the venue being located so close to The Gate and the Bigg Market, it also makes the perfect preamble to a night out in town.