Newcastle Sparkles enjoys a stylish overnight stay and dinner at Jesmond Dene House in the heart of Newcastle.
Jesmond Dene House is a mere five-minute drive from my house, yet my overnight stay in May catapulted me into a beautiful, leafy setting that felt far far away from my home and more like an exclusive countryside retreat.
Located in the heart of Jesmond Dene – a wooded valley characterised by waterfalls, crags and stony bridges – the independently owned boutique hotel is housed within a Grade II listed arts and crafts building dating back to the 19th century.
Our room at Jesmond Dene House
I had been to the hotel on a handful of occasions before; for afternoon tea, a friend's wedding and a special dinner hosted by celebrity chef Jean-Christophe Novelli. On this Sunday night visit, I would finally enjoy an overnight stay in the elegant hotel and step inside one of its 40 bedrooms for the very first time.
Our deluxe bedroom was a beautiful space, decorated in a plush contemporary style with boutique wallpaper and accents of ruby red in the furnishings. Our bay window, complete with comfy chairs and a table, overlooked some leafy trees from the Dene, masking the residential houses lurking in the vicinity.
The huge bathtub was a particular highlight – I earmarked this for a bubble bath within a matter of seconds!
Dining at Jesmond Dene House
Come 7pm, we enjoyed some nibbles and drinks in the cosy Cocktail Bar before heading through to the dining room for our meal.
The restaurant blends a modern decor. We're talking low hanging light bulbs and stylish furnishings, with more traditional and understated features like coving and a large fireplace, which hark back to the building's astounding heritage.
As for the food, this was delicious from start to finish, with each course beautifully presented, too. My beef was perfectly cooked, accompanied by bone marrow and chunky chips. My boyfriend's decorative plate of crisp belly pork with langoustine was equally as satisfying.
For dessert, I indulged in a dark chocolate sphere. As the glug of chocolate sauce poured over the sphere, it melted away instantaneously to reveal a delicate scoop of salted caramel and gingerbread ice cream hidden inside. A surprising, theatrical end to our show-stopping meal.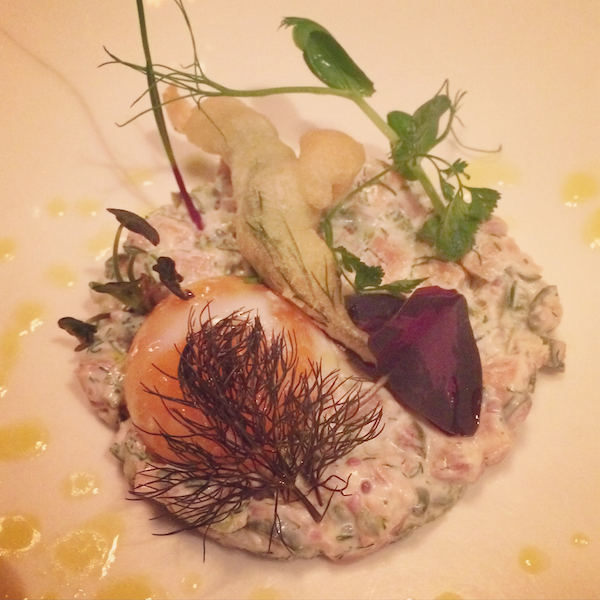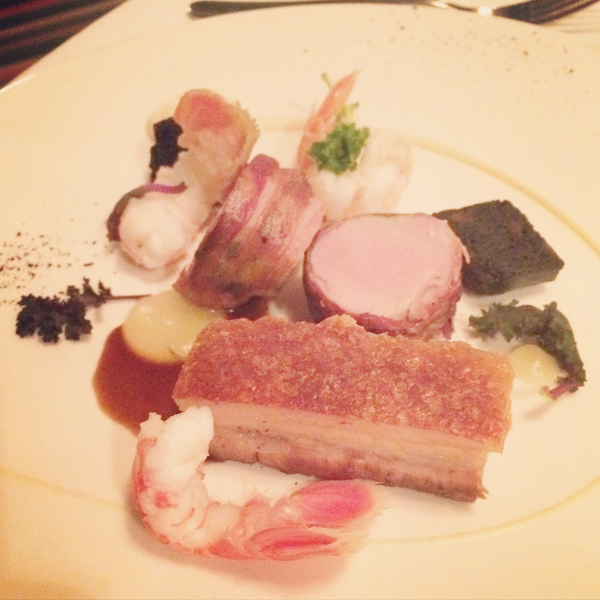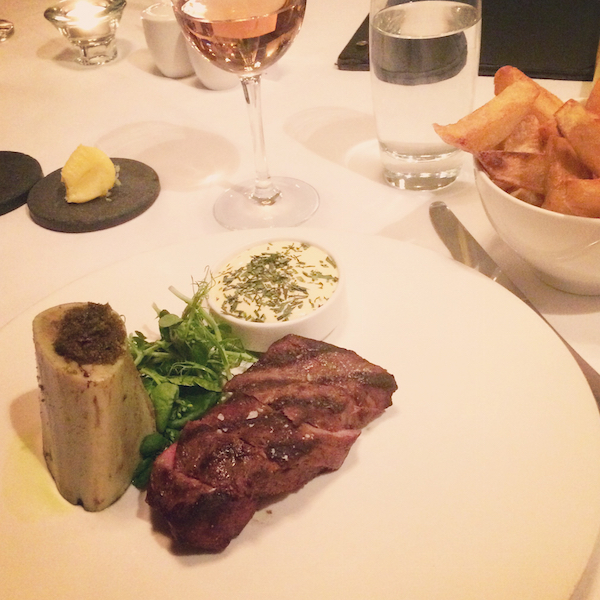 The bathtub awaited us upstairs.
As we finished our bottle of Rose surrounded by mountains of frothy bubbles, we could hear music from a wedding party billowing through our bathroom window – an upbeat soundtrack to what was otherwise a spell of bath-time bliss.
As you would expect, the large comfy bed provided a pleasant night's sleep and I awoke refreshed and ready to face the week ahead.
The breakfast, served in the bright and airy Garden Room, was also top notch – salmon and scrambled egg for me and a generous fry up for the beau.
Our overnight stay at Jesmond Dene House was an unexpected little piece of luxury on our doorstep and, quite simply, delightful in every way.