Hard Rock Cafe Newcastle – what to see, eat and drink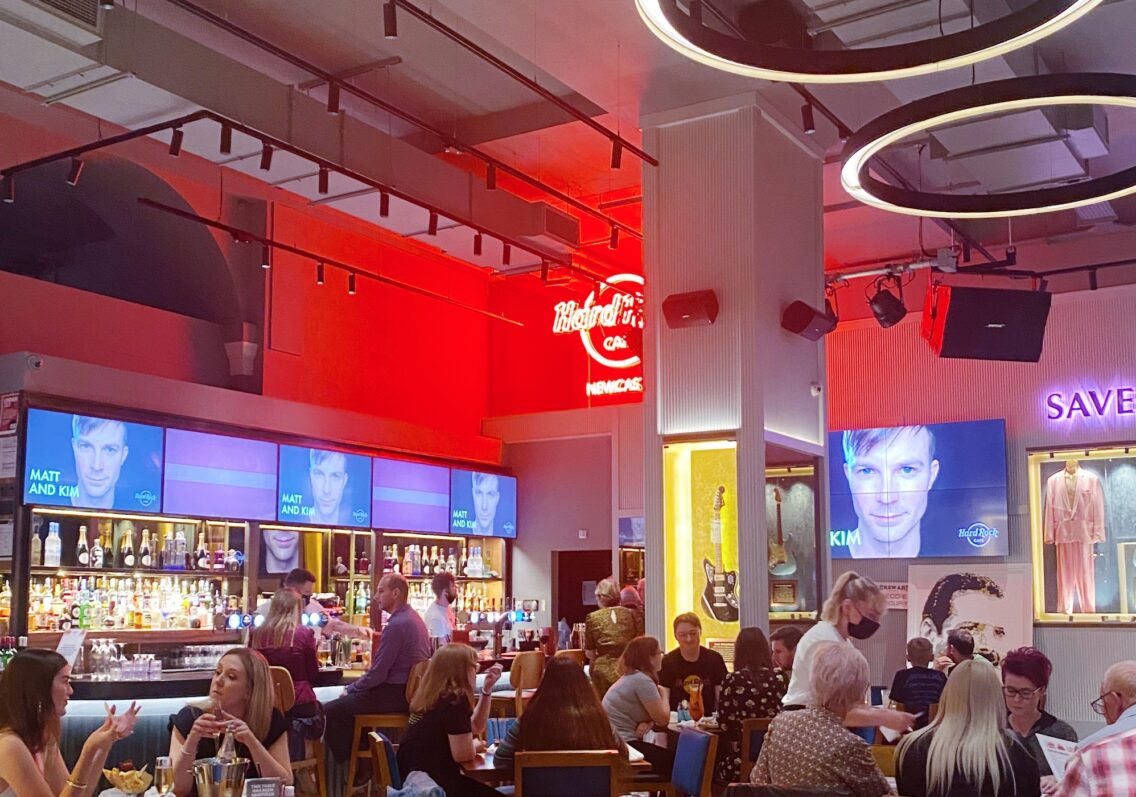 Clamouring for a rock n roll dining experience? Live it up at Newcastle's new Hard Rock Cafe on the Quayside, which combines casual dining with legendary music memorabilia.
When it was first announced that the Grade I listed Guildhall on Newcastle's Quayside would be transformed into a Hard Rock Cafe, it was met by some opposition locally. Much of the argument centred on Hard Rock being a global chain, and how we should be showing more support for independent businesses. 
Despite the negativity vented on social media, the iconic brand – now 50 years old – landed in Newcastle back in May. The new 180-seat restaurant is actually a franchise operated by Washington couple, Penny and David Tilly, who owned (the now closed) Nova Seafood restaurant on High Bridge. 
Love it or loathe it, Hard Rock is a popular brand and people specifically seek out the chain's venues on their travels. And, yes, I'm one of those people who likes to exclaim, "I've been to that one!" and, so far, I've checked off Prague, Nice, Venice, Copenhagen, Vienna, Barcelona, Glasgow – and now Newcastle – from my list. There's quite a long way to go though, as there's more than 180 cafes worldwide!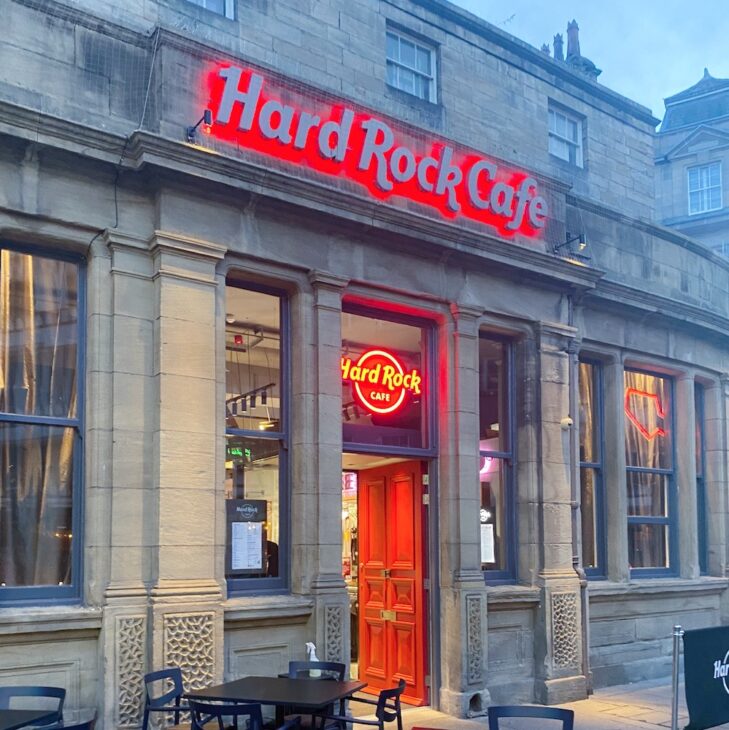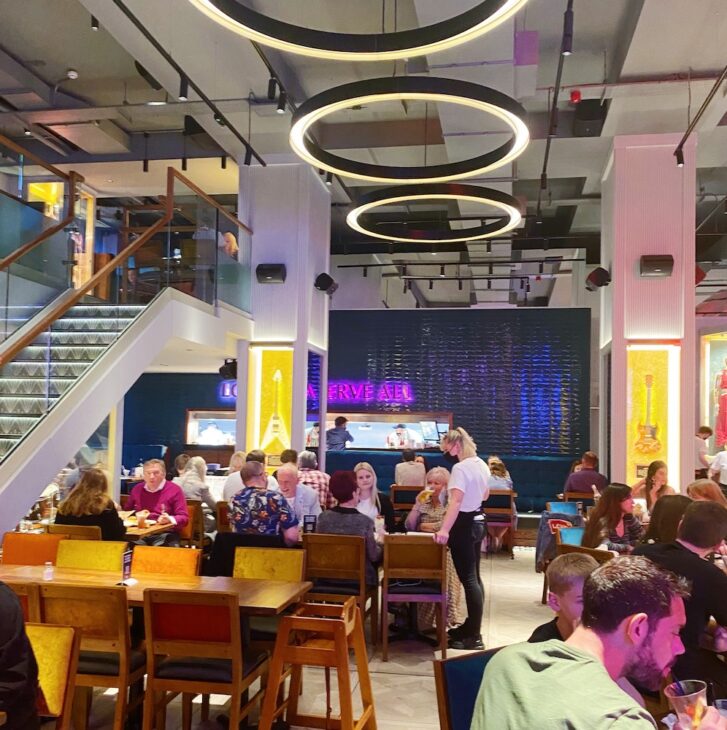 Hard Rock Cafe is all about the experience; the rock n roll classics blasting in the background, the nostalgia, the branded merch, and of course, being surrounded by memorabilia from true music icons.
In the Newcastle cafe, you'll find an assortment of signed guitars, clothes, and even a handwritten love letter from artists like Sting, The Animals, Ed Sheeran, Mark Knopfler, Alicia Keys, Dua Lipa, Two Door Cinema Club, The 1975, and Eddie Van Halen, among others. 
All the items were specifically handpicked for the Newcastle cafe from Hard Rock's impressive collection of more than 83,000 pieces, with some of the featured artists having a direct link to the Toon (you may have spotted a few already in the list above!).
The memorabilia is on display on both the ground floor and mezzanine level, so be sure to go for a wander after your meal to take a proper look at all the garments and instruments, and read anecdotes about each item. Taylor Swift's prim patterned dress was one of my highlights!
What you can eat and drink
On the main food menu, you'll find a variety of American-style dishes, including steak burgers, sandwiches, baby back ribs, wings, sliders, and nachos.
Unique to the Newcastle menu, we also have our very own Whey Aye burger, which comes with a pease pudding fritter, Northumberland cheddar, and a Newcastle Brown Ale onion compote. The charcoal bun makes this quite the stand-out dish!
I ended up going for the Tupelo crispy chicken tenders, which came with seasoned fries and honey mustard and barbecue dips. It tasted okay, but I wasn't bowled over, especially considering the £13.50 price.
Tipple-wise, there are plenty of cocktails to choose from, and for an extra cost, you can keep the collectable glass it's served in. You'll also find a decent selection of boozy milkshakes, beers, wine, and non-alcoholic drinks.
My Banana Berry Colada cocktail – a blend of Malibu, Captain Morgan dark rum, fresh banana, strawberries and pina colada mix – was disappointing. It was packed with flavour, but it was more like a slushy smoothie – none of this berry concoction was making the short journey up my straw!
Hard Rock Cafe Newcastle - is it worth visiting?
As I previously mentioned, I like visiting Hard Rock Cafes on my city breaks abroad, whether it's to enjoy a cocktail or take a look around their Rock Shops. Branded t-shirts always seem to be a popular momento and I did end up buying one in Venice because of its stylish Venetian motifs. So, from that perspective, I can imagine Newcastle's cafe will be popular with inbound tourists who like the novelty of this brand.
The building is a real draw too. It was rebuilt in the middle of the 17th century by architect Robert Trollope. An extension designed by John Dobson (renowned for his work on Newcastle Central Station, Grainger Market and other iconic landmarks in the city) was then added in the 1820s. Who would ever have thought that a 'court' where merchants and travellers once met, would one day become a modern restaurant?
The cafe's prime Quayside location also makes it a perfect destination. The al fresco space to the front of the venue, forming a triangle with Red House and Aveika, means it will appeal to locals and day trippers alike during the warmer months. (And plans are also afoot to create even more outdoor seating along its river-facing side.)
But, for me, Hard Rock Cafe feels like a 'been there, done that' kinda place. It was great to pop along and pore over the cafe's unique memorabilia earlier this month, but like an exhibition you see at a museum, there's no immediate rush to return and do it all again. 
To sum up my visit, I'd say Hard Rock Cafe Newcastle delivered a 'rocky' performance of sorts – an electric vibe mixed with music nostalgia galore, sadly let down by a meal that lacked superstar quality.