Newcastle Sparkles swings into Matfen Hall for a thrilling Go Ape treetop challenge filled with thrilling zip wires, swings, and tightropes.
Scared of heights? Check. Not usually the outdoorsy type? Check. Looking for fun nonetheless? Check.
Yep, it's fair to say that I'm not the typical Go Ape candidate. But when I was invited along to try the treetop challenge at Matfen – I couldn't resist. Having recently turned 36, I'm keen to see out my 30s in style by experiencing new things outside of my comfort zone, so Go Ape more than fitted the bill.
Matfen Hall – a stunning country house located 15 miles from Newcastle – is the backdrop to Go Ape here in the North East. With its towering forest of 30ft tall deciduous trees, it's a mesmerising location for an exhilarating obstacle course set high amongst the canopy of branches.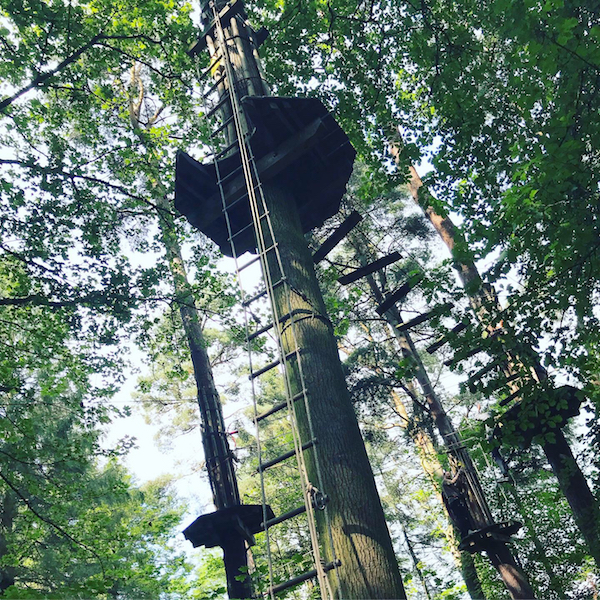 The session begins with a safety briefing to ensure you know what's what with your harness and the three main colour coded clips you'll be using throughout the course.
It seems a little daunting at first, especially as you're wholly responsible for clipping yourself in every step of the way, but it soon becomes second nature (ahem…).
For each challenge, you'll find a diagram nailed onto the tree trunk to illustrate what to do with your harness so you really can't go wrong. Plus, the instructors are always wandering around, checking in on everyone.
About Matfen's Go Ape course
The Go Ape course is split into five sections sprawled across the woodland and you can expect to take between two and three hours to complete them all.
Apparently, the sections are supposed to get progressively more difficult, but I'd say one of the worst – for me at least – was in the very first section. Let's just say sliding your feet inside round metal stirrups suspended from ropes is very tricky, especially when said hoops end up around your thighs and you're left dangling mid-air!
There's a variety of obstacles to tackle – from stepping-stone-style wooden beams and circus-like tightropes to swings, bridges, planks, wooden tunnels and nets. Sometimes you have wires or ropes to hold on to, sometimes you don't.
Most of the time, it's about keeping your balance and holding your nerve. The 'wobble' (and I mean this literally) would typically set in half way across. The secret, I discovered, was to not look down and don't pause – just keep going.
Completing each treetop challenge did feel like a little triumph though, until I hooked myself up onto the next platform and caught a glimpse of what I would be undertaking next! I probably said 'I can't do this one' a million times on the day, but when you're 30ft up a tree with nowhere to go, you have to overcome your fears and doubts…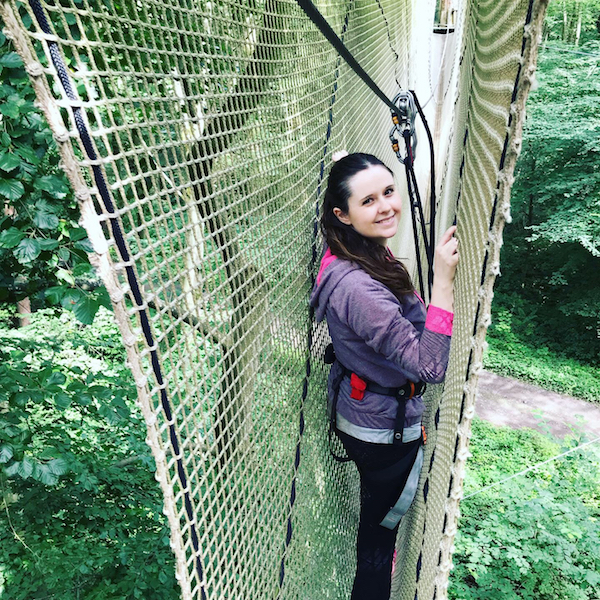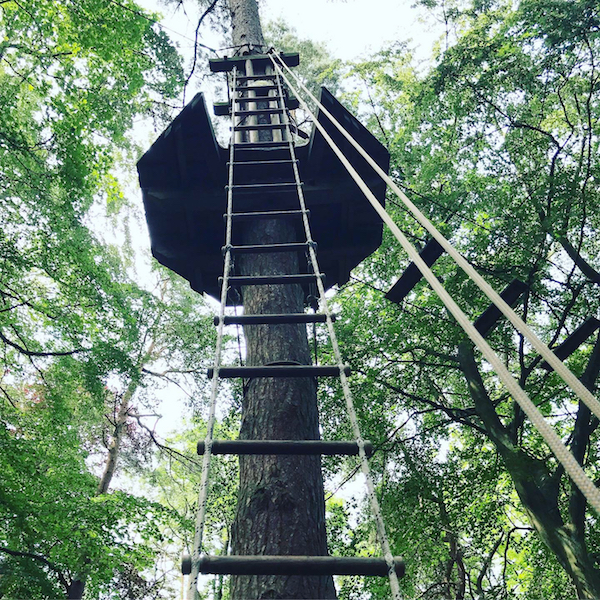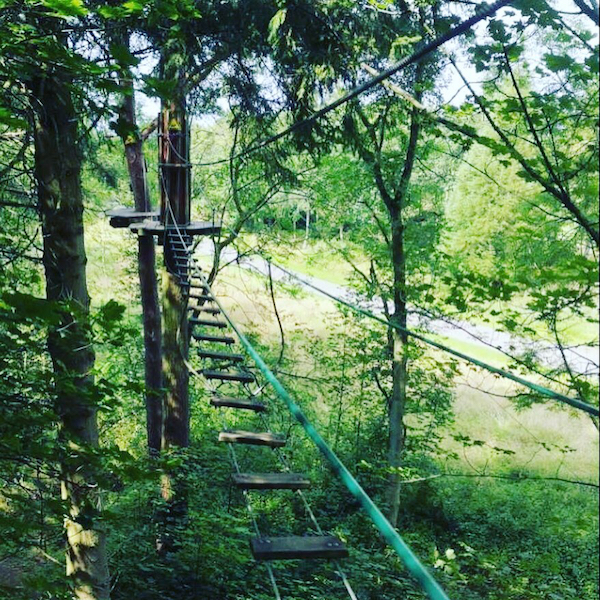 The best bit has got to be the zip wires.
Each section ends with one of these and they're lots of fun! Jumping off the wooden platform was a little scary at first, but as soon as I was blistering through the trees with the wind brushing against my face and my ponytail swishing in the air, I could enjoy the leafy surroundings and the adrenaline rush from speeding back towards the ground. It was such a thrill.
I never quite nailed the landing though. It depends on which way you're facing as you race towards the giant pile of wood chippings at the end of the line, but the idea is to dig your heels in to slow yourself down. Expect a grubby bottom from a not so elegant landing…or five!
In the fifth section, you can choose from two routes – difficult or extreme. Of course, my mate wanted to do the extreme one and, after a little squabble, I caved.
So what can you expect from the extreme path? Well, you have to climb another ladder to take you even higher up into the treetops.
And then there's the infamous Tarzan swing. This was a scary one and made the zip wires look like child's play.
I initially felt like I was free falling as I leapt off the edge of the platform, swinging into a cargo net. Of course, only I could proceed to bounce off this, lose all momentum and then dangle (again) mid-air, unable to get back to the platform where I started or reach the net to climb up onto the next tree.

Eventually, I mustered up the strength to create a rocking motion (it's worth highlighting at this point that, as a youngster, I was THAT girl who always needed someone to push her on the playground swings). Grabbing a hold of the net, I clambered up the ropes and plonked myself on the wooden platform where I sat for a few minutes to regain my composure. Give me a zip wire any day!
Speaking of which…the final zip wire is a corker as it features a wooden skateboard of sorts that you step onto for the first stretch of the line. I think I lasted about a second on this!
With my bright pink trainers scraping along the wood chippings for the last time, there was only one thing left to do – pose for a picture with the Instagram-worthy '#NailedIt' sign and claim my dinky certificate and stickers. Great mementos from the day!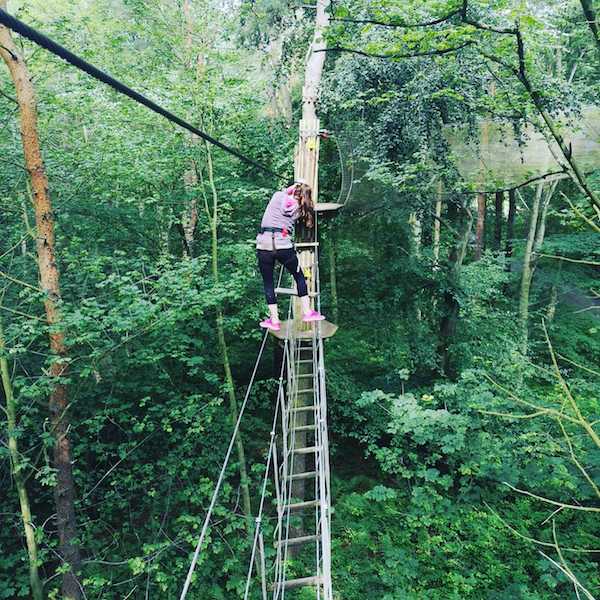 Top tips for your Go Ape experience
We were really lucky with the weather on the day we visited, catching a few hours of sunshine, but ensure you wear comfortable clothing that you can either strip off or layer up, and shoes with a good grip are a must.
Make sure you're also hydrated before starting the session and take advantage of the water fountains dotted along the course.
It's a good idea to make the less confident people in your group go first. I found it reassuring to have my mate check I had everything securely hooked up and she was great at spurring me on to complete the different challenges. She captured some great photos and videos too!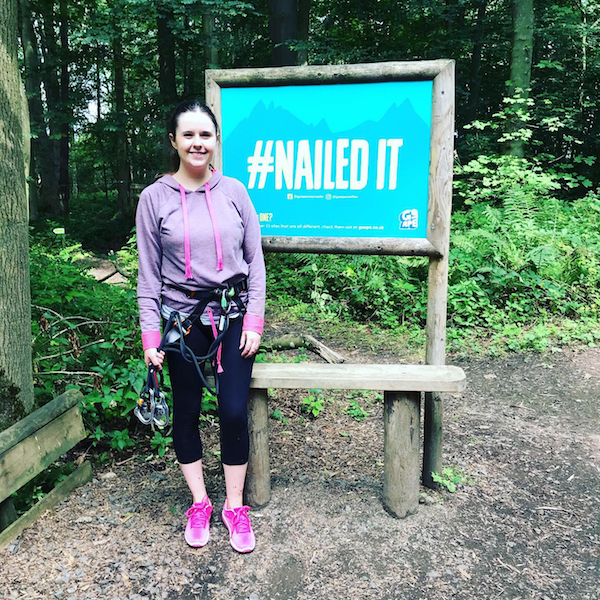 Go Ape is, indeed, a challenge – whether you're accustomed to the outdoors or not. It's also lots of fun and it's no surprise to see that it's a popular activity with families, hen and stag parties, and even couples, with bookings starting from only £20 per person.
If you're looking to experience something different and exciting in a beautiful woodland setting, or maybe you just want to channel your inner Tarzan or Jane, then Go Ape at Matfen is the perfect jungle adventure in the heart of Northumberland.
As for me, I may have started out as a non-typical Go Ape adventurer, but I've been converted. Just don't ask me to grapple with that Tarzan swing again!