Tea for two… Indulging in St Mary Inn's new rustic afternoon tea menu.
St Mary's Inn is the sister venue to Jesmond Dene House, tucked away on the outskirts of Morpeth. It was an Edwardian hospital in its former life, but these days the red brick building is home to country-style B&B accommodation, a bar and spacious restaurant that all exude those snug home from home feels.
After temporarily closing – the venue re-opened last year and has since won Best Pub in the North East at the 2019 National Pub & Bar Awards. Great timing, it would seem, to venture back with my sister to sample afternoon tea – the St Mary's way.
Savoury afternoon tea selections
What really stands out about the rustic afternoon tea menu is that not only do you choose your tea (standard practice for afternoon tea goers) but you also tailor-make your foodie selection too. Great if you're a fussy person (waves!) who usually finds something plated up that's not quite to their taste.
First up, the sandwiches. Local classic – ham and pease pudding – served with mustard and gem lettuce features, alongside crushed avocado, pickled red onion, tomato and rocket; and cheese savoury and lettuce. We both, however, went for the smoked salmon with pickled cucumber, mustard and lettuce. Proper slabs, presented in fresh brown bloomer bread, although the ardent North East foodies among you will no doubt be swayed by the white stotties!
The savoury selection includes either warm minced beef and onion pie or cheese and onion quiche. We plumped for the former. This was perhaps my favourite foodie item of the day, quite unusually for a sweet toothed girl like me! The pastry was lovely and flaky, with plenty of meat and a rich gravy to match – and no grisly bits, thankfully.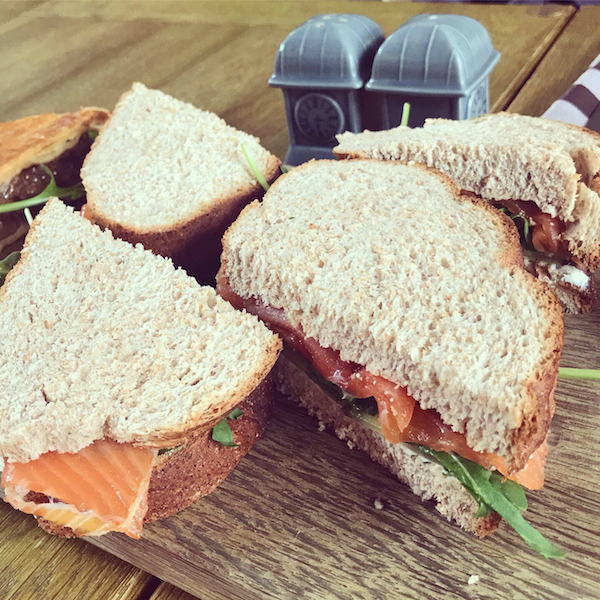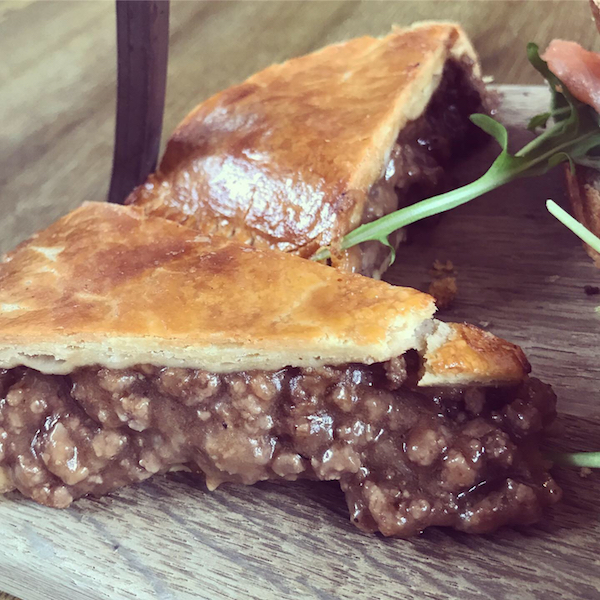 Sweet treats at St Mary's Inn
As for the traditional scone – we both went for the fruit scone with clotted cream and strawberry jam, but the cheese variety is also available if that's more to your taste. The scone's light and soft texture was just perfect. I could happily have eaten all the clotted cream in a giant heap on my teaspoon as it was so lusciously smooth and sweet; it beautifully complimented the succulent jam, as it should do. (And in case you're wondering, I'm a cream topped with jam kinda scone eater!)
For our sweet treats, this included carrot cake with cream cheese icing or – our choice in the end – warm chocolate brownie, which was divine. Gooey texture, rich melt in the mouth flavour and topped with even more sugary goodness.
But, let's not forget about the tea! English breakfast, Earl Grey, peppermint, and berry and elderflower are just a few of the teas available on the menu.
It's served in a traditional teapot in the cutest of knitted tea cosies. 
Mine was a rainbow bright stripy design whilst my sister's featured flowers and fluffy clouds. Proper homely and, dare I say it, perfect for the 'gram!
How much does the rustic afternoon tea cost?
St Mary's rustic afternoon tea is priced at £15 per person, with Prosecco optional for only £5 each. Such great value considering the sheer amount of food you're presented with. And yes, we both walked away with a little cardboard box filled with our leftovers!
St Mary's Inn is a little off the beaten track but as a dog-friendly venue, with ample room for the little ones too – it's a great destination for families, and their new afternoon tea is just another scrumptious reason to get yourself along this summer!