Afternoon tea at Jesmond Dene House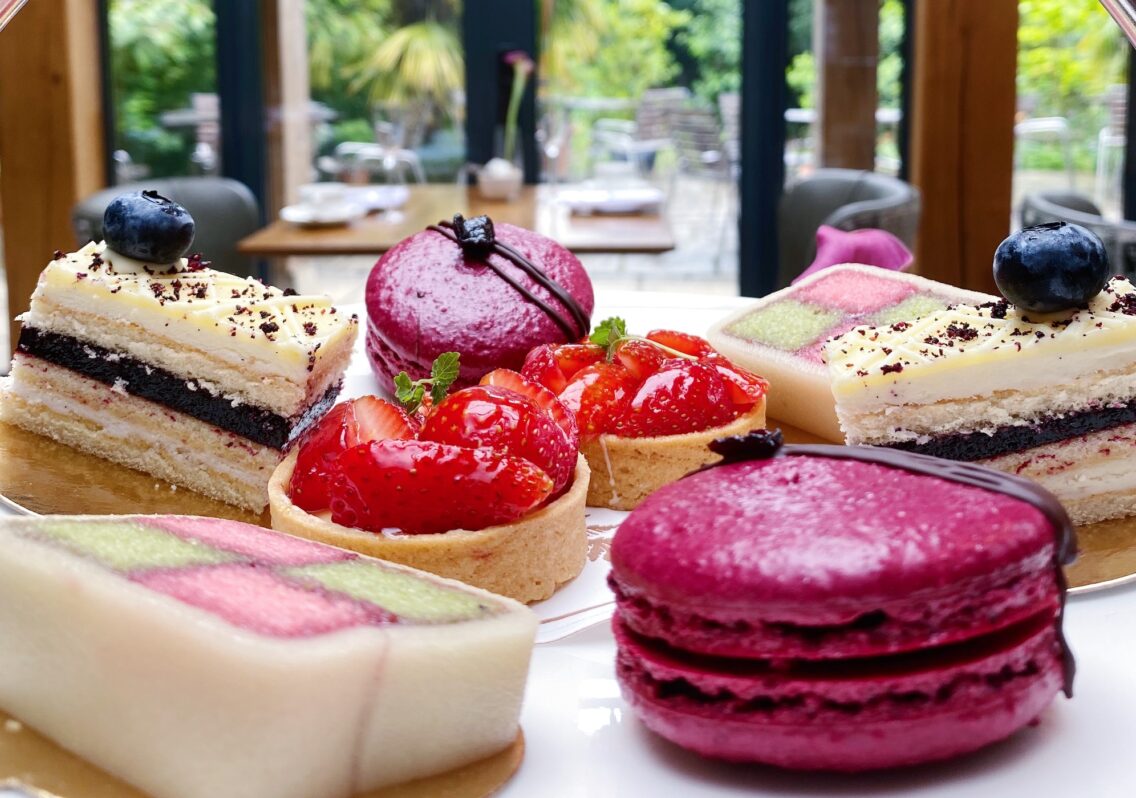 Time for tea! Indulging in a gorgeous spread of sweet and savoury afternoon tea treats at Jesmond Dene House.
July is my birthday month, so I always like to organise special activities to mark the occasion, and afternoon tea at Jesmond Dene House was top of my list this year.
I've been to Jesmond Dene House a few times over the years, for friends' weddings, a festive feast hosted by Jean-Christophe Novelli, a Champagne breakfast, and an overnight stay. So you could say I'm a fan of this stunning hotel!
An enviable location in Jesmond Dene
Jesmond Dene House is nestled within the beautiful woodland, waterfalls, and crags of Jesmond Dene, just outside Newcastle city centre. It's such a serene backdrop and one of my go-to destinations for an outdoor walk.
The boutique hotel is independently-owned, and the building is Grade II listed, dating back to the 19th century. It looks – and feels – just like a countryside retreat.
For afternoon tea-goers, there's a few different settings within the hotel where you could be seated, each with a different ambience. The Fern dining room (headed up in the kitchen by Masterchef finalist, Danny Parker) exudes upmarket vibes, meanwhile the hotel's traditionally-decorated lounge areas are more relaxed and regal in feel. Our table, however, was inside the conservatory – a bright and modern space overlooking the courtyard and garden.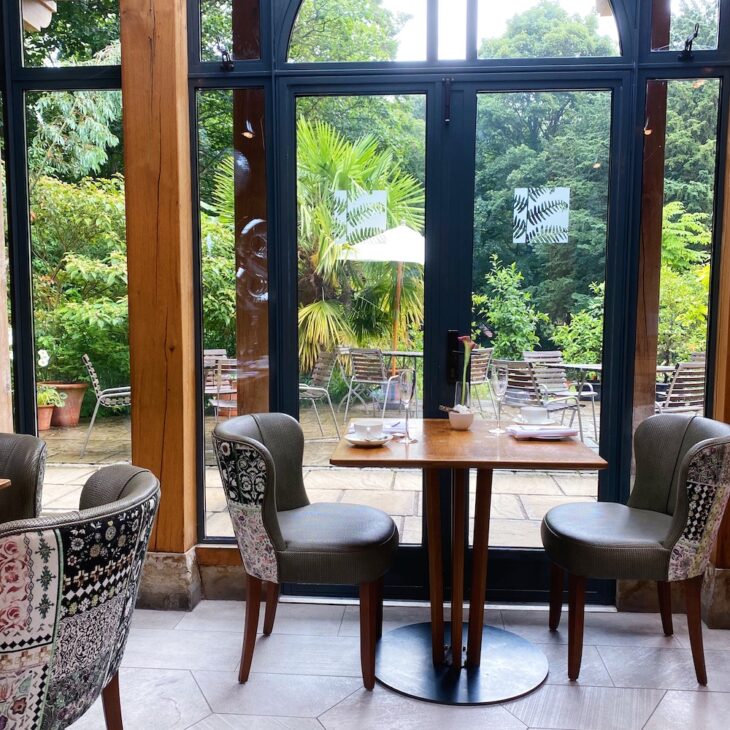 Tea, of course, is what the afternoon is all about, and there are plenty of options on the menu, including English Breakfast, Darjeeling, Birds of Paradise, Jasmine Green, and Peppermint.
Our teapots were kept topped up throughout, with the staff always on hand for refills.
Prefer to add something of the bubbly variety? You can also pay extra for a glass of Prosecco or Champagne – perfect for celebrating a special occasion.
Sweet treats on Jesmond Dene House's afternoon tea menu
Perched on the top tier was an assortment of pretty rainbow-bright patisserie creations, with a blend of summer fruits, light sponge, and luscious icing creating the most indulgent of small treats.
We tucked into raspberry and pistachio Battenburg, miniature strawberry tarts, dark chocolate and cherry macarons, and – my favourite – perfectly-formed slices of vanilla and blueberry gateau.
Everything tasted so scrumptious, and the mix of soft, chewy and crunchy textures was divine. I particularly liked the little gold cardboard plates underneath the cakes; there's nothing worse than trying to carefully lift these delicate bakes from the plate into your mouth!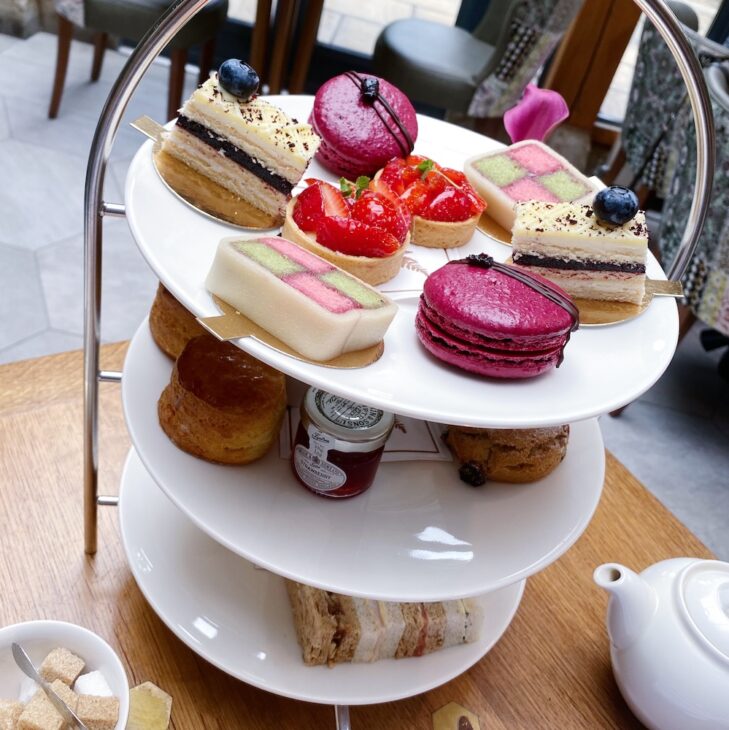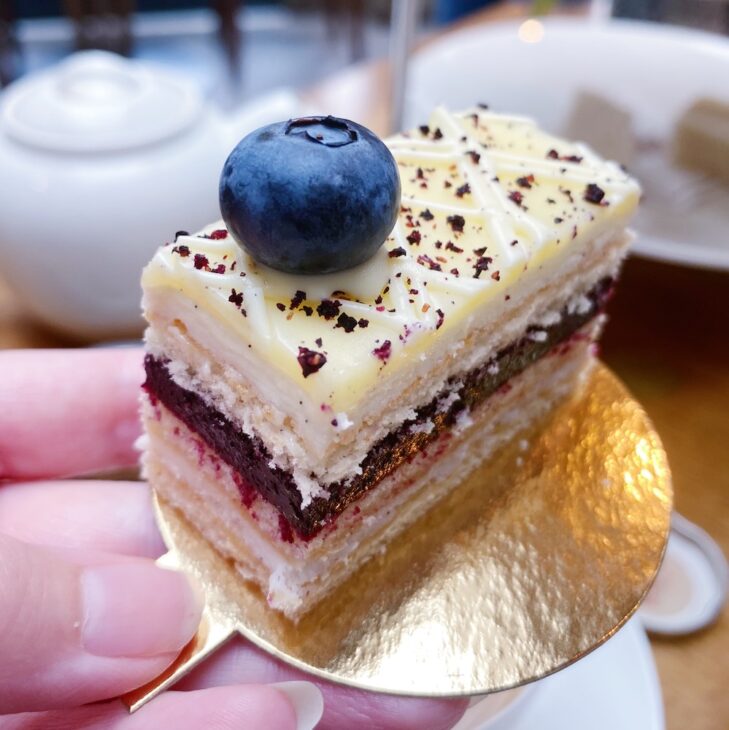 Dainty finger sandwiches are the epitome of a classic afternoon tea, and Jesmond Dene House's offering is in keeping with this tradition.
Cucumber and tarragon cream cheese, oak smoked salmon with chive creme fraiche, roast turkey and truffle mustard, and mature cheddar cheese and pickle were the tasty combinations on offer, served on fresh white and brown bread. I wasn't a fan of the turkey and truffle, but only because I find the flavour overpowering, so just a personal preference kinda thing!
Our mature cheddar cheese and Earl Grey tea and raisin scones were perfectly fluffy on the inside and crisp on the outside. I couldn't wait to smother them with our lavish toppings, which included sweet strawberry jam, soft and creamy clotted cream, and whipped butter. All three were incredibly moreish.
A top afternoon tea in Newcastle
Afternoon tea is so much more than just plates of pretty food stacked on top of one another, served alongside copious amounts of tea.
It's about the experience; being able to relax and luxuriate in your surroundings, while relishing each and every bite as you flit between savoury and sweet delights.
I don't think you could pick a more exquisite spot for afternoon tea in Newcastle. Jesmond Dene House's leafy setting is the perfect hideaway for a few hours. And its stylish conservatory overlooking the venue's plush garden is ever so tranquil.
As for the food, this was beautifully presented and simply delicious, showcasing gorgeous summertime flavours.
If you're looking for an afternoon tea in Newcastle that feels extra special and will be sure to impress – this is it! 
For more information about Jesmond Dene House's afternoon tea, which is served between 1-4pm Wednesday through to Sunday, visit jesmonddenehouse.co.uk.