Newcastle Sparkles catches up with jewellery designer Abbie Gaiger to find out more about her new collection of bold and colourful jewellery.
Can you tell us a little about yourself?
I'm a contemporary jewellery designer and maker, originally from Hampshire but now based in the Jewellery Quarter in Birmingham. I studied at the School of Jewellery here and it's a place with such a rich history of manufacturing, so it's an amazing, inspiring place to work. There's a great community spirit too which is always a good thing when you're working on your own the majority of the time.
Originally after leaving school, I wanted to study fashion design. It was during my Art Foundation course at college that I realised I actually enjoyed making 3D objects rather than clothes, and jewellery seemed like a good way to combine 3D making with fashion and designing for the body.
My degree was in Jewellery Design & Related Products, so it was very experimental compared to a traditional jewellery or silversmithing course, which I loved. We were taught about lots of different processes and materials which could you could then experiment with to find your own style and way of working. One day you could be making jewellery with food, and the next you'd be working in a group to make the biggest necklace you possibly could!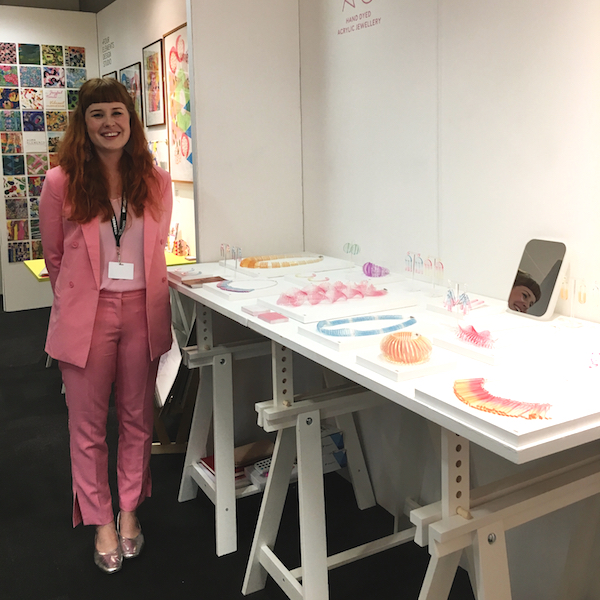 What attracts you to the themes of geometry, symmetry and patterns?
I've always been drawn to strong lines, order, repetitive shapes and bold colour, and I work in a very methodical way which I think lends itself well to these themes too. The materials and processes I use go hand in hand with these starting points as well – laser cutting enables you to achieve really precise, mathematical results, as does scoring and folding metal.
Can you tell us more about the materials and hi-tech processes you use?
At the moment I mostly work with acrylic, which I've been experimenting with since I did my Art Foundation course at college. I do most of my design work digitally before laser cutting shapes from sheets of clear acrylic, and then I hand dye the pieces to create different depths of colour and fading effects. I think acrylic can be tough to work with as its such a flat, one dimensional material but I enjoy the challenge of turning it into a 3D object by layering it or slotting it together.
I've also used more conventional 'jewellery' materials in previous collections, scoring and folding metal to make really sharp, precise forms. My work isn't particularly conventional though so I would then powder coat the metal in pastel colours to add a twist.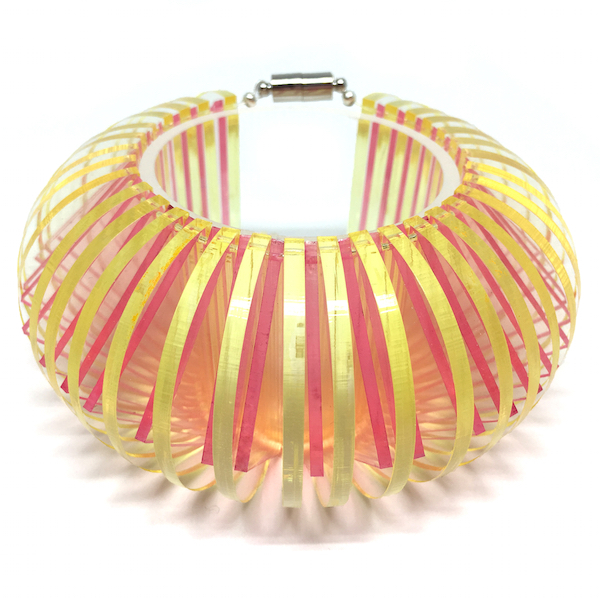 Are you influenced by current fashion trends or pop culture?
Definitely, although a lot of people tend to comment that my work has a very 80s look! I've always been into fashion and originally wanted to study fashion design rather than jewellery so I think it'll always have an influence on my work. I'm really happy about the current trend for bold statement earrings as they are something I love making – my earrings are certainly my best sellers at the moment!
You use lots of bright, pastel shades – what draws you to that colour palette?
I think it has a lot to do with the fact that my designs are very angular and sharp, as I feel that bright pastel colours soften up the overall aesthetic and introduce an element of playfulness. I like the contrast of a going through a very mathematical, methodical design process to make a really fun, tactile necklace in pastel pink.
Can you tell us more about the collection available at The Biscuit Factory?
My work that is currently available at The Biscuit Factory is a mixture of two collections, Terrarium and Ombre.
Terrarium is a continuation of my final degree collection, and it draws inspiration from succulent plants and the structures of glasshouses. These pieces are made by scoring and folding hand pierced copper sheet which is then powder coated to add a pop of colour. Laser cut acetate which has been printed with photographic images is then layered on top of the metal which gives the pieces a tactile nature.
The Ombre collection is more pared back and wearable, consisting of a variety of earrings in simple geometric shapes. They are made of laser cut acrylic which I have hand dyed to give a unique dip dye effect – these are lovely to wear as they're fun and colourful yet super lightweight.
What do you love most about being a jewellery designer?
As cliche as it is, I love seeing people wearing my designs. There can be a long process of going backwards and forwards between designing and making before a piece is finished, so it's like the ultimate stamp of approval when someone else loves the end result enough to make it a part of their outfit.
If you could create jewellery for any person – who would that be and what style of jewellery would they wear?
It has to be Bjork! She's worn some incredible experimental outfits and accessories over the years. It would have to be some kind of huge colourful statement collar with lots of layers and detail, I think.
What's been your career highlight?
I've had a lot of really exciting opportunities over the past year or so, but I think getting chosen to exhibit within One Year In at New Designers this year was a definite highlight. I spoke to so many interesting people and it has opened up further opportunities too which I'm really excited about.
What are your ambitions for the future?
Ultimately, I'd love for my jewellery to be stocked and exhibited in other countries. I've also just launched another business, Slice Laser Studio, to provide laser cutting services for other small businesses and individuals as it's something I struggled to find locally after I left university.
Encapsulate your jewellery designs in three words.
Colourful, mathematical and bold.
Abbie Gaiger's jewellery collection is currently available to buy from The Biscuit Factory in Newcastle.
For more information about Abbie's work, visit www.abbiegaiger.com
Images: Abbie Gaiger