5 things you need to know about Pepo bar in Newcastle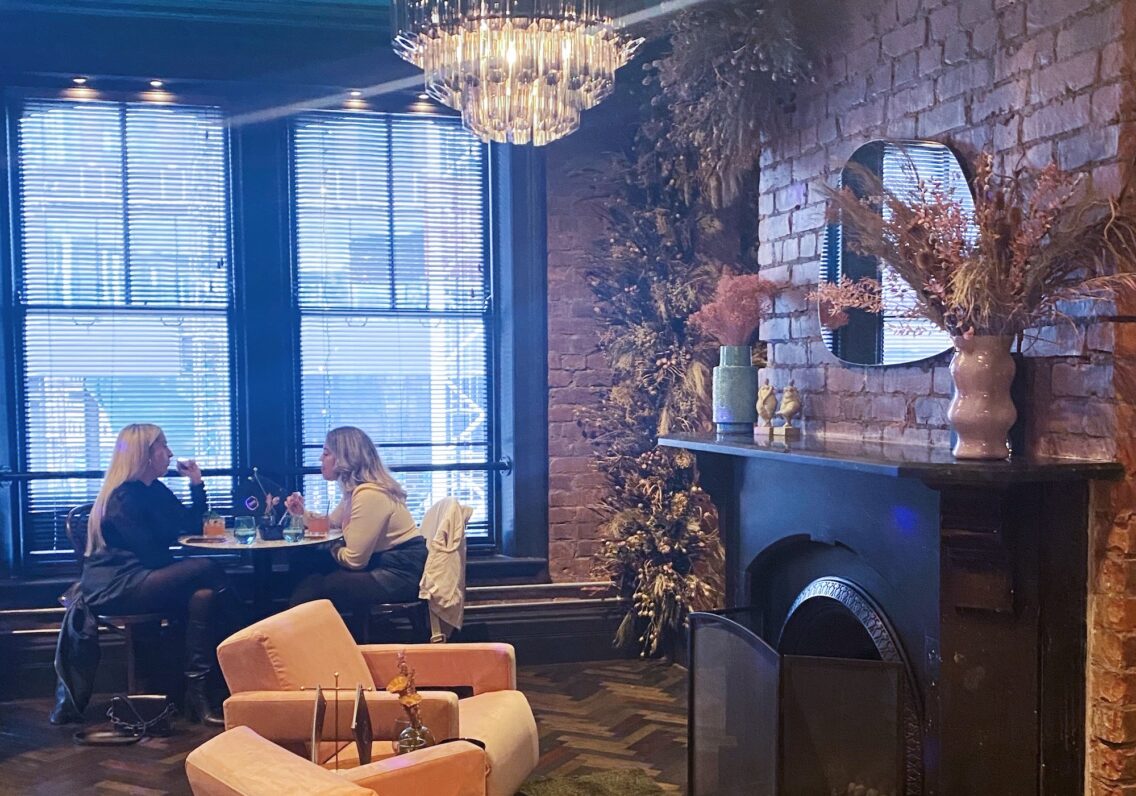 Get the lowdown on Newcastle's newest 'fruit-focused' cocktail bar, Pepo, and what you can expect from this new addition to Pilgrim Street.
1. Pepo is Horticulture's sister venue
Pepo is a stylish new bar from the people that brought us Horticulture, one of Newcastle's most popular indy hangouts for cocktails and brunch.
If you ever dined in Italian restaurant, Don Vito's, then you'll be quite taken by the transformation here, as Pepo has completely re-imagined this space.
So what vibe is the bar going for?
It describes itself as a NYC 'loft style' lounge, with dried foliage and naked filament bulbs cascading from the ceiling, splashes of soft pinks, and exposed bricks in every nook and cranny. 
But, is it too on-trend, when you look at similar interiors in other city centre bars? Possibly. Although, when a bar exudes this kind of class, you can't help but fall for its Insta-made charm.
2. Shhh...the bar has a secret entrance
Look closely enough and you might just spot a secret door and staircase that links Pepo with its sister venue, Horticulture, next door. The perfect excuse to quickly flit between both bars!
3. It's Pornstar Martini heaven
Think you know your Pornstar Martinis? Think again! Pepo has crafted seven variations of this classic cocktail.
The Cream Pie is brimming with coconut flavours for something ultra smooth and tropical, meanwhile the Soixante-Neuf pops with its sweet blend of vanilla and pineapple. For a little kick, the Smokin' Hot – made with chilli syrup – will be sure to set your tastebuds alight!
I tried the Golden Shower, a fusion of Cut Spiced Rum and Taylor's Velvet Falernum Liqueur with passion fruit puree, vanilla syrup, lime and aromatic bitters – a very unique blend. And there was no shot glass of fizz in sight; instead I was presented with a dinky pipette to squeeze directly into my drink!
4. Tuck into Pepo's food platters
Graze on one of the bar's globe-trotting platters until 10pm, with plenty of food for two to share.
You'll find the likes of southern fried chicken thighs, paprika salted fries (highly addictive!), onion rings, and jerk prawn skewers on the Americas platter. 
Heading over to the Middle East, enjoy braised lamb leg stew, feta and pepo salad, and grilled vegetables, among other tasty morsels of food inspired by this region.
Want something with a bit more zing? Try the Oriental platter with delights such as tuna and avocado tartare, pickled slaw, and Asian rare beef salad.
There's also a Vegan platter featuring Tempura tofu bao buns and sweet potato curry. Delish.
5. And what does pepo actually mean?
In case you don't already know (I certainly didn't!) – a pepo is a fleshy seeded fruit.
The bar's namesake is also the inspiraton for its drinks menu, and Pepo's mixologists have crafted a selection of cocktails spotlighting different members from this distinct fruit family. Think cucumber, dragon fruit, guava, melon, passion fruit, watermelon, and papaya. All mouthwatering, fresh flavours!
Needless to say, you're not going to find these creations on any other drinks menu in Newcastle; another reason to pop along to Pepo next time you're in town.