And just like that, we have a brand new brunch spot in Newcastle city centre. Flore Cafe & Patissserie opened its doors earlier this month in Central Arcade, bringing us all the Instagram-worthy feels we could wish for.
It was clear from Flore's Instagram page that the team knew a thing or two about creating a buzz around launching a new venture. For weeks, they teased us with photos of their picture-perfect brunch dishes, frothy hot chocolates, and dreamy surroundings. So, when the cafe finally opened its doors in December, every Newcastle Instagrammer, foodie, and blogger appeared to descend on the eatery in a matter of days, all eager to explore this new brunch kid on the block. 
As it happens, the team behind Flore also run The Dispensary – another popular city centre brunch and coffee spot that was once notoriously difficult to book. But, the big question was: would all the pretty social media posts from its sister destination, Flore, live up to reality?
Flore's stylish surroundings
Let's talk interiors, because Flore really does appeal to the Insta-crowd. A savvy move, really, as it means visitors will be more likely to take photos and share them, thus spreading the word online. And everybody falls for it, myself included! I'm a sucker for a flower wall and blossom tree – and Flore boasts both of these!
The decor is awash with a soft baby-pink and crystal white palette, all very understated, with dry florals and foliage dotted around. This is perfectly offset by a black and white checkerboard tiled floor.
The space reminds me of a re-imagined 1950s ice cream parlour, but instead of cones, you can indulge in pastries and other sweet treats.
The cafe's seating areas are sprawled over two floors, with the main dining space facing into the beautiful Central Arcade – an Edwardian shopping arcade with a glass vaulted roof. Apparently, plans are also in the pipeline to refurbish Flore's upper floor into an afternoon tea spot.
It's an ever so pretty backdrop and an excellent location in the heart of Newcastle (literally, a few seconds away from Grey Street). And for the locals among you trying to recall what occupied this Grade 1 listed building before – it used to be a travel and tourism office.
What's on the menu at Flore?
Whether sweet or savoury is your vice, Flore's food menu has got both covered. Think toasted sourdough with avocado, poached eggs and smoked salmon; eggs on toasted muffin with garlic sautéed spinach; or Dutch baby pancakes (described as sweet Yorkshire puddings) filled with a choice of maple bacon, salted caramel popcorn or mixed berry compote with pistachio crumb.
In the end, I went for the breakfast tacos comprising three soft corn flour tortillas topped with pulled beef, smashed avocado, pickled red onions and salsa. Delicious, if a little on the small side.
It was fluffy, chunky French toast for my mum with strips of crispy turkey bacon stacked on top, doused in maple syrup with vanilla ice cream (unexpectedly) on the side. She wasn't a fan of the ice cream scoop, but I finished this off for her instead.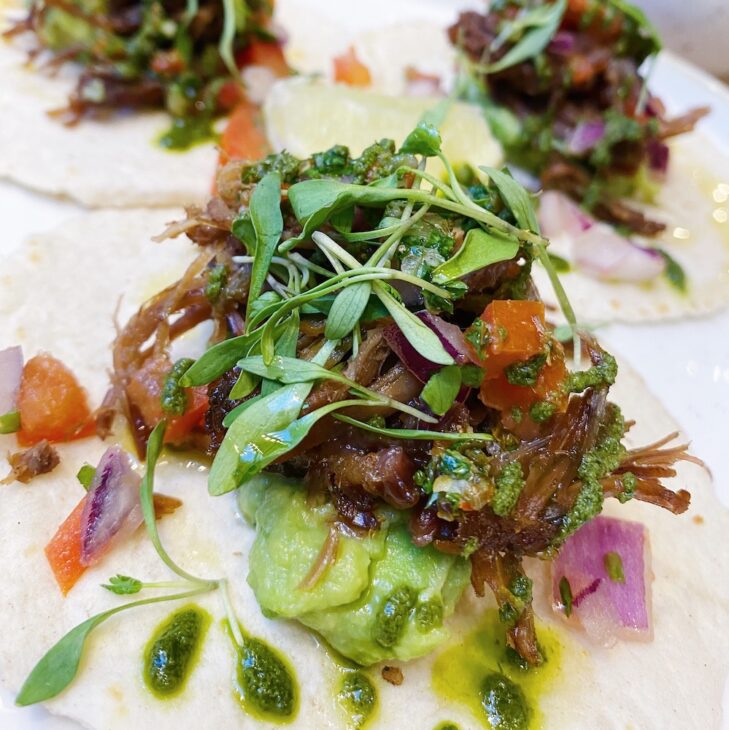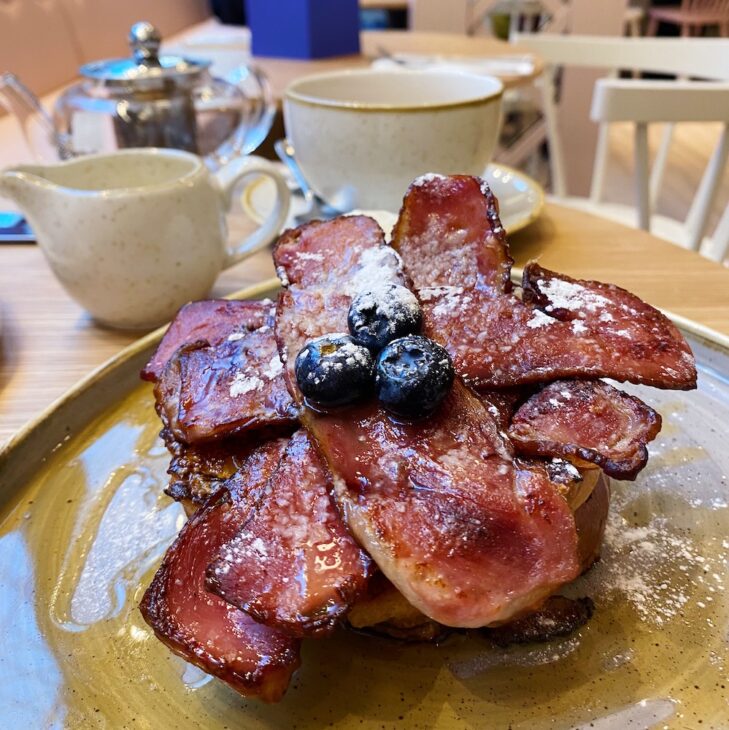 For drinks, mum had a breakfast tea served in a chic see-through teapot, and I had a gorgeous mint chocolate chip hot chocolate with a good helping of cream and a festive candy cane on the side. 
I was really pleased to see such a varied selection of hot chocolates on Flore's menu (as I don't drink tea or coffee). Forget your standard milky drinks – it's all about exciting flavours like parma violet, and mandarin white hot chocolate, which sound divine!
I really enjoyed my visit to Flore. You can't help but fall for its cute setting and scrumptious selection of brunch dishes. (If you're the cafe's insta-friendly key demographic, that is!)
  The cafe reminds me of a modern filming location from a super-stylish Netflix series – think Emily in the Toon!
The cafe feels more like the kind of place you'd go to for a treat, with the brunch dishes teetering around the £7.50 – £9 mark. But, I have to confess, I'm keen to pop back in soon for a swift hot choc!
And if the latest Instagram posts on my feed are anything to go by, Flore still seems to be going down impressively well with plenty of other brunching folk and hot chocolate lovers across Newcastle, too.
For more information about Flore Cafe & Patisserie, visit www.instagram.com/florecafeuk